Black History Month ends with sounds of love and liberation
Spurred on by the beat of the drums, several students got up and started dancing. More joined, and soon the whole room was on their feet, moving to the music.
The good vibrations were palpable in the Euphrat Museum on Feb. 28, where Janetta Coleman and the Monsoon provided the soundtrack for the month's final Black History Month event.
The theme of love and liberation clearly resonated with attendees, who were brought to their feet multiple times throughout the event.
Fountainetta Coleman, band member and an organizer of the event, said the ability of music to connect to people was one reason she started making music in the first place.
"It pierces through all the distractions," she said. "It pierces through our egos and goes straight to the heart and it allows us to become closer together."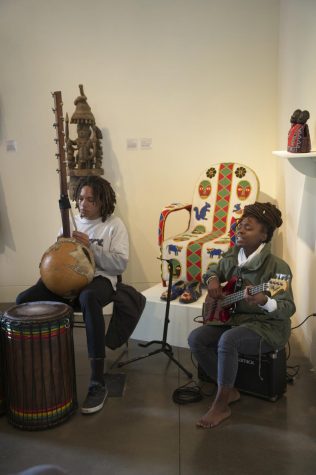 Band member Malcolm Halcrombe also talked of the ability of music to access the core of humans.
"A lot of times I can't even talk to people about my emotions because I can't even fully understand them or comprehend them," he said. "But if I have a drum then I can express them completely. It's like that universal language."
This power of this language was on display as students danced alone and with each other to the beats provided by the band.
Halcrombe said he hoped his music helped to make attendees feel healed.
"Any problems and insecurities, I hope they have a moment of freedom from all that," he said.
Tony Santa Ana, Office of Equity, Social Justice and Multicultural Education program coordinator and an organizer of the event, said he felt healed by the music.
"This is medicine," he said. "This is medicine and healing."
Santa Ana said he chose this event to close out Black History Month because the month is not just about history, but about imagining what we want for communities.
But he said he would not stop celebrating black history just because the month was ending.
"Black History Month should be celebrated every day," he said. "It shouldn't be celebrated for one month, it should be celebrated all the time."