SAGA: De Anza's new LGBTQ club

2

min read
The story of how one student's vision gained enough support
The Sexuality and Gender Alliance has been established on campus as De Anza's only formal LGBTQ club, aiming to unite a community that has been historically underrepresented.
Carrie Chang, 23, sociology major, had envisioned the foundation of SAGA in the fall of this academic year. At first, Chang meant it to be a fun idea to catch students' interest.
"I actually posted in one of the De Anza meme groups online to gauge interest," Chang said. "Friends I brought it up to seemed to like the idea, because it's hard to find other individuals within the LGBTQ community on campus sometimes."
According to Chang, her interest in forming the club peaked after the January 24 incident in the Flint garage where a De Anza student was called a racial slur and punched in the face.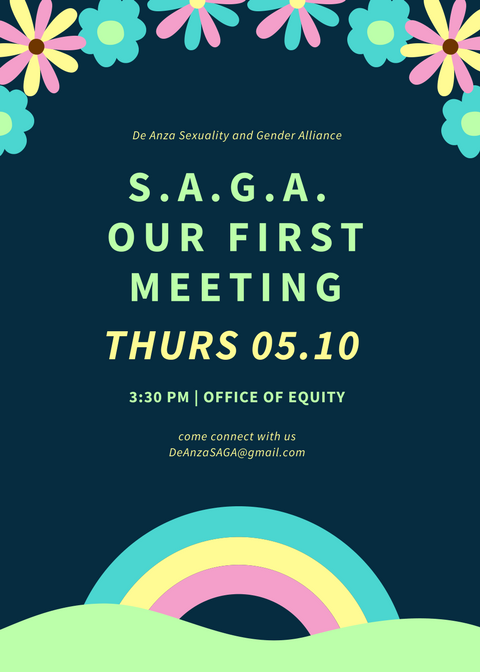 She began talking to faculty members for advice.
"My sociology instructor, Steve Nava, let me pitch my idea at the Laramie Project Screening so that I could begin to collect emails and recruit people who were interested." said Chang.
As time passed and winter quarter came, the proposed project to jump-start SAGA took some time as Chang gathered support by promoting the club through social media and public assemblies.
Several students expressed their support for the new club and how important it is for the community.
"The LGBT community is the type to survive no matter what. It's important for there to be a sense of community, especially for one that's been so marginalized and misplaced. With the recent hate crimes at De Anza, it's even more important now than ever to have the strong alliance." said Arthur Arboleda, 23, English major.
"This club will help facilitate discussion, and I believe it will and can help people feel more comfortable about being gay, because there are still people that are scared to be who they are." said Ishmael Garcia, 19, communications major..
SAGA will host their meetings in the Office of Equity, in the Media and Learning Center every Thursday at 3:30 pm.