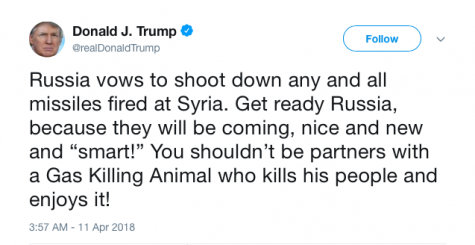 Rebecca Arnone, Staff Reporter

April 26, 2018
While President Donald Trump's social media presence is informative, he should not use Twitter to command our military.   Trump has used Twitter to announce the "fake news awards," to promote his favorite Fox News shows like "Justice with Judge Jeanine" and "Fox and Friends" and to announce military strikes in Syria. Pronouncing military strategy in the same manner as his demagoguery diminishes the importance of such an announcement.
Vinitra Swamy, Staff Writer

September 20, 2013
Since the Daraa uprising in 2011, sparked by the arrests of 15 children for painting anti-government graffiti on a school wall, Syria's Ba'ath government has faced increasing opposition. Because of the the uprising, Syria has been divided between opposing forces, leading to a violent civil war. When...