Talia Alvarez

March 5, 2015
Life at De Anza College is busy, but a trip to the Kirsch Center garden can help reduce the stress. Surrounded by California native plants, anyone who stands in the Kirsch Center garden can smell the aroma and ease their mind. The Kirsch Center, home to De Anza's Environmental Science Department,...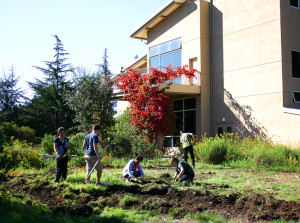 Zee Wang, Staff Writer

October 28, 2013
De Anza College student Liana Hua welcomed volunteers to help start a garden outside the Kirsch Center on Wednesday morning, Oct. 16. Hua, studying environmental science, said she will welcome help from volunteers at the garden on Wednesdays and Fridays from 10:30 a.m. to 1:30 p.m. The...