Dons' defense stifles Laney Eagles 24-14
Four turnovers from defense, four TD passes, pave way for Dons' victory.
The De Anza College football team flexed their defensive prowess, forcing four turnovers in their 24-14 win over the Laney College on Saturday Oct. 3.
"The best we've played in a long time," said De Anza football head coach Dan Atencio about his defense.
The Dons unyielding defense, led by outside linebacker Edwin Campbell, who had ten tackles, 1 ½  sacks and a fumble recovery, held the Eagles defense to 261 yards of total offense and forced four turnovers (one interception and three fumbles).
"You know just out there running around trying to make plays," said Campbell of his play on Saturday. "Trying to help my team win."
The Dons' offense got off to a slow start in the first quarter, but produced an eight play, 88-yard drive that ended with a 35-yard touchdown pass from quarterback Ron Johnson to wide receiver Dela Harley, the first of four for Johnson.
"They were showing blitz, so we checked into max protection and they only brought three (rushers), so I had a lot of time to wait," Johnson said. "We had slants on our side and he (Harley) converted it a deep one and just saw him open and hit him."
Early in the second quarter, the Dons added to their lead through the air and scored on an 11-yard touchdown pass from Johnson to wide receiver Rodney McKenzie in the red zone.
De Anza's defense shut down Laney's offense in the first half and held them to 70 yards and a fumble. The Dons went into the half ahead of the Eagles 12-0 after two touchdowns and two failed PATs.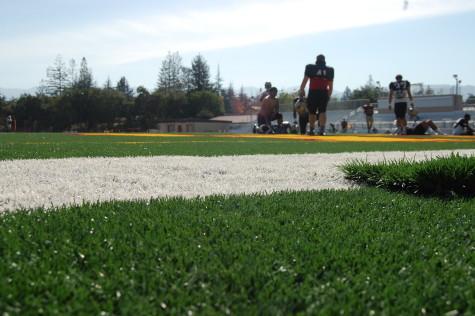 At the start of the third quarter, the Dons continued their stellar defensive play when outside linebacker Jameson White recovered a muffed punt, the second mishandled punt and fumble of the day for the Eagles.
"As a team we played great. We made a couple mistakes here and there, we could have scored more," White said. "But as a team, a whole team, offense, defense, special teams, we did great."
The fumble gave the Dons the ball at Laney's 31-yard line and they wasted no time to extend their lead to 18 on another Johnson-to-McKenzie connection. McKenzie would end the game catching eight passes, 117 yards and two touchdowns.
"We started off with a good week of practice, " McKenzie said. "Everybody was focused coming of the loss (the previous week) and it just transferred to the game."
Halfway through the third quarter, the Eagles finally reached the endzone on a 34-yard pass, shortening the Dons' lead, 18-7.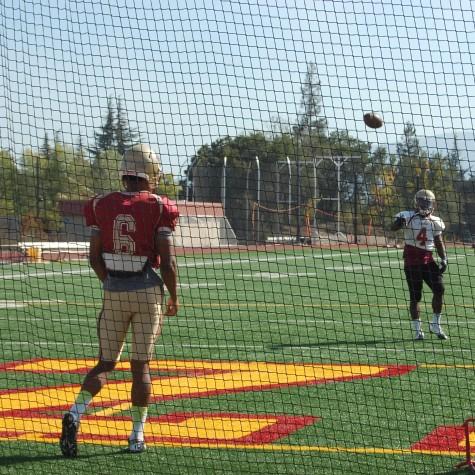 The Eagles momentum ended after another fumble was recovered by Edwin Campbell, early in the third quarter. With excellent field position, the Dons continued their aerial assault and Johnson found receiver Marque Watson in the endzone for a 16-yard touchdown.
"There is a lot of room for improvement, we made mistakes, but they really played at a high energy, and our offense they struggled," coach Atencio said. "But they came through, they scored 24."
Although the Dons' offensive line allowed six sacks on the day, Johnson, who finished with 254 yards, four touchdown and an interception, credited them for their success in the passing game.
"We found a way to keep me protected a little bit more," Johnson said. "Which game me a little more time to do more things."
A touchdown by the Eagles in the middle of the fourth shortened the Dons' lead to ten points and with less than three minutes left, the Eagles threatened to score again as they crossed into De Anza territory. But an interception by Jameson White ended the drive and the Eagles chances of coming from behind.
"Everybody was yelling to get down on the ground, but that was my first pick of the season," White said. "So I just kept running. I wanted to score."
The Dons did not play a perfect game. They failed to convert on all four PATs and had 14 penalties called on them that cost them a total of 117 yards. Coach Atencio said he has addressed those issues with his team and that they will continue to improve every week.
"We get better as we go," Atencio said. "And that's what we are working on right now."