De Anza's new pho bar is pho real
The Pho Bar is a unique and refreshing break from the typically bland and low quality food found in most college dining halls. It's not often that you find an eatery as unique as this one in a college dining hall with quality comparable to that of other good restaurants in the same category.
The hearty smell of the broth and meat hits you when you walk up to order from the Pho Bar in De Anza College's Campus Center. It's easy to spot, located right next to the tables in the middle of the
Campus Center.
There's only one size o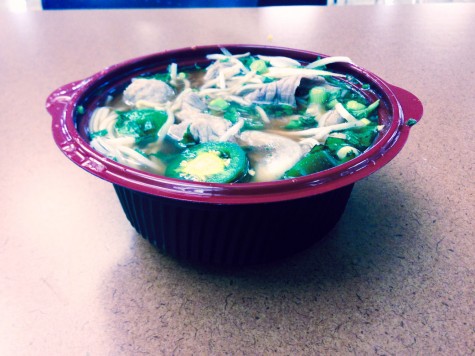 f pho, and it costs $6.75 plus tax and the only choice is between chicken
and beef.
The beef pho comes with fatty strips of beef and meatballs, while the chicken pho is simpler with chunks of chicken breast, both with the typical ingredients seen in traditional Vietnamese pho, including jalapeños, onions, bean sprouts, mint, basil, cilantro
and lime.
The fatty strips of beef are juicy, tender and not too chewy while the meatballs are firm, giving the soup a refreshing balance of firm and soft textures.
All of the meat and ingredients are already cooked, and the employees quickly assemble the ingredients in a bowl and add a scoop of broth. The process is efficient and precise, and the wait isn't usually longer than a few minutes.
While the size of the bowl doesn't seem too big, the amount of food inside is surprisingly substantial. There aren't too many noodles, but there's more than enough meat to fill you up in each bowl.  The noodles are also slightly thicker than the typical Vietnamese rice noodles, and much less sticky.
The steaming broth's aroma is beefier and richer than most pho and isn't too salty, and doesn't induce the post-pho food coma common at other pho eateries.
One thing that sets this Pho apart from others is its healthy feel. It's easy to leave a Pho restaurant feeling like you've overloaded on meat, salt and MSG, but you won't be bloated after a bowl of this Pho
While the Pho Bar does get a lot right, there are some areas for improvement.
The menu also has little variety only offering a choice between chicken and beef.
Although it has its shortcomings, they're miniscule considering the location, speed and quality of De Anza's Pho Bar. The pho is filling flavorful, and authentic. It probably doesn't taste like what you imagine when you hear college dining hall pho.
De Anza's Pho Bar is open from 10:30 a.m. to 2 p.m. from Monday to Thursday in the Hinson Campus Center. It's undoubtedly worth a try, and it could easily become one of your favorite lunch spots on campus.