Pittsburgh shooting an attack on entire Jewish community
The disturbing hate crime that occurred at Tree of Life Synagogue in Pittsburgh on Saturday, Oct. 27 was due to one thing: anti-semitism.
As we break down that word into 'against' and 'Jewish,' we can see that this shooting was not just an assault on one synagogue, but an attack on the entire Jewish community.
Eleven people were killed simply for being Jewish.
I was grateful to see a San Jose Police Department cruiser in our parking lot, keeping the community safe as I walked into my synagogue on Sunday. I knew the officer was there for our safety.
For the first hour of religious school, I have 10 sixth graders. We had a solemn discussion about what had happened and the safety of the Jewish community.
I wanted to make sure they knew they were both safe, but also part of a religion that some people don't like.
More than half of my students have experienced anti-semitism firsthand, when their Jewish day school in Los Gatos was evacuated last year after a bomb threat.
It was one of more than 2,000 bomb threats made to Jewish community centers, synagogues, and schools last year alone, according to Reuters.
Vigil for Victims
I feel both fortunate to be safe and devastated for the greater Jewish community.
I had attended the synagogue on that Saturday morning, where there was a B'nei Mitzvah, the ceremony of a child becoming a Jewish adult.
At Tree of Life, there was a circumcision ceremony for a gay couple's twin children. "Shabbat", or the Sabbath, is our one day a week when everyone comes together to pray, and the fact that Tree of Life was attacked at its most vulnerable is an excruciatingly painful realization.
This pain is felt all over.
On Monday night, I went to a vigil at San Jose State, hosted by the Jewish organization Hillel of Silicon Valley, which serves the students of the South Bay colleges.
Hillel's executive director Sarita Bronstein's speech highlighted the importance of being together as a community.
"Events such as this one leave us feeling alone and scared," Bronstein said. "This is why it is very powerful to join together in solidarity to remember the victims of this tragedy. We gain strength together."
Ronnie Baruch, 18, a SJSU business administration major also said the vigil helped her.
"I'm heartbroken," Baruch said. "After this vigil, I definitely feel better, surrounded and protected, but I'm still heartbroken and in shock about it."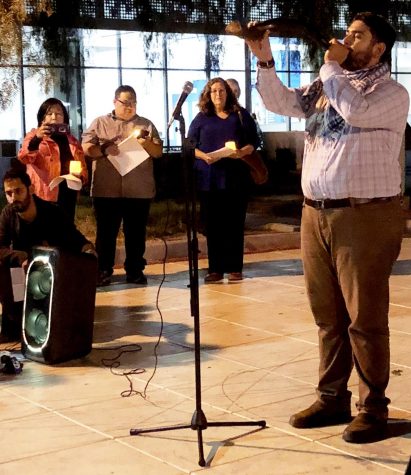 Strength and Respect
In Judaism, we wear a headcovering called a "kippah" when we're praying.
Some, including myself, wear it all the time, or just sometimes.
In the past, I have not generally worn a kippah in public, out of fear of judgement.
As I've grown, I've gotten past this fear, and while I am certainly somewhat fearful of consequences of wearing it in public, I put it on after I woke up Sunday and have been wearing it since, whether in public or private.
The kippah might not mean much to others, but to me, and to many Jews, it symbolizes our Judaism in a profound way.
Ben Brotman, 19, electrical engineering major at Northeastern University in Boston, MA. stopped wearing his kippah when he travelled to Greece to study abroad because he felt it would subject him to religious persecution.
On Monday, back in the United States, he put that kippah back on.
"I thought long and hard about how to address this tragedy," Brotman wrote in a Facebook post Monday afternoon, "and I realized that the only proper way was to show greater pride and support in my religion and my community. I wear this kippah as a sign of respect, solidarity, strength, and reverence."
Sometimes, standing together is the best way to fight against intolerance.
"We as Jews are incomprehensibly strong when we show support for one another," Brotman wrote.
When I first heard the news about the shooting on Saturday morning, I felt sad, confused, scared and especially angry that someone would kill people in their house of worship.
Whether it be Muslims, Christians, Jews or members of another religion, no one deserves to be attacked because of their faith.
Solidarity in the face of hatred
Now, as we've come together as a Jewish community, all I feel is love.
Love for those who need it the most, love for those families who lost someone and love for my friends who are hurting.
It is this love that will get us through this grieving process.
Anti-semitism is not a new problem nor is it something that will disappear overnight.
Over time, our entire community, small as it is, will show our strength. We will take action to prevent this from happening again, and we will continue to work together for a more peaceful United States and world.
A large community vigil was held in front of San Jose City Hall on Tuesday, Oct. 30. Susan Ellenberg, a local school board member, who is Jewish, ended her speech with the emotions and thoughts we are all feeling and thinking.
"I'm scared of a lot of things," Ellenberg said. "But I won't be scared to be Jewish."