President Lloyd Holmes ended the current search for the next vice president of Instruction to replace retiring vice president Espinosa-Pieb on Nov. 13.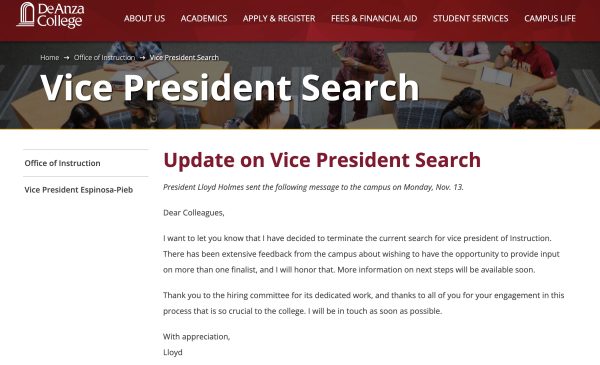 According to the De Anza website, Holmes decided to end the effort because community members requested extended time and opportunities for more applicants.
Initially two finalists were chosen by vice president of Student Services, Rob Mieso, for the position: Dr. Thomas Ray, interim associate vice president of instruction and Dr. James Todd, assistant superintendent to vice president of student services at Sierra College.
However, Todd had reportedly withdrawn as a candidate on Nov. 9 leaving Ray as the only finalist for the position. According to Lake County News, Todd is also a candidate for the president position at Woodland Community College and is having a forum on Tuesday, Nov. 14.
Story continues below advertisement
Holmes wrote in his message to campus, "more information on next steps will be available soon."