Street preachers return to De Anza campus
De Anza College students peacefully confronted another session of Mark Trout's aggressive preaching on the patio outside the cafeteria during the Spring Carnival on May 21.
The crowd cheered when two male students kissed each other as Trout denounced the LGBT community.
"I did it because I am proud of who I am!" said Thomas Edel, 20, photography major,and an ovation proved many De Anza students were proud of him too.
"I'd do it again," said Aaron Rosaider, 20, English major. "Sometimes you just gotta do what you gotta do. Sometimes, that means letting your queer tendencies run apart."
Other tactics students used to confront the preacher's speech were a chain formation to block the preacher, lying on the stage, singing, chanting and whistling.
In response to students' singing of Queen songs "We are the Champions" and "We Will Rock You," Trout exclaimed: "Freddy Mercury is burning in hell!"
When the students lay down on the stage he said, "I'm gonna step on your crotches!"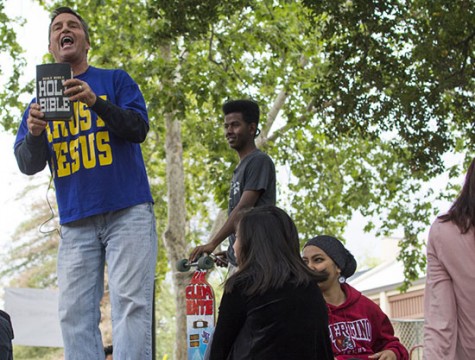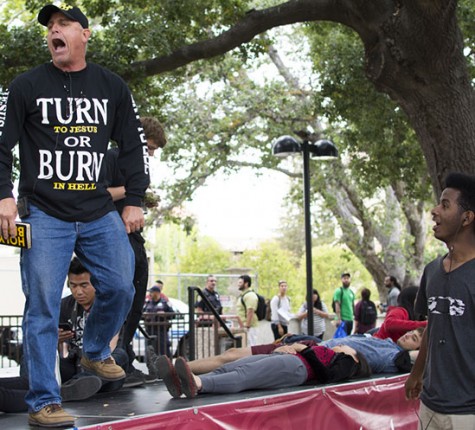 DASB senators Naeema Kaleem, Mina Aslan also talked from the stage along with Trout. Michelle Bounkousohn, 19, visual anthropology ethnic studies major, hula-hooped, drawing attention away from the preacher.
Probably the most effective tactic students used was whistling which drowned out the preacher's and everybody else's voices.
Students' first reaction was to go away, leaving the preacher without an audience, Kaleem explained, but they couldn't leave after especially offensive remarks.
"We are standing up! We will mobilize and take action!" Kaleem said students decided.
"I'm very impressed by the fact that the student body responded, the way it did and also extremely amused by this," Ryan Thomas, 20, political science major said. "It's like "wow, this is awesome" – this is the only way to describe it."
This time it was an organized response," Amin-Patel said explaining that last quarter students were just standing or shouting back.
Mark Trout visits De Anza college regularly, and many students are familiar with his sermons. "I've been here for four years, and he would do this since I got here, and he is very delusional and hypocritical," said Aaron Tolliver, 21, criminal justice
major.
"Yes, he comes every single time, but in order to send a message to him, we need to do something," Kaleem said.
The preacher uses the patio to deliver his messages because it is the most public space at De Anza, and campus security can't take the right of freedom of speech from him. However, Amin-Patel pointed out that the preacher was threatening students this time..
Trout's comments like "[A] man should't kiss another man" and "All muslims are sinners!" promoted anger in students rather than convincing them to follow his religious beliefs.
Ash Merrit, 19, kinesiology major, said, "He is smashing other people's religion saying that [Christianity] is higher than
other religions, and honestly – I do hope he will go to hell."