Jewish American heritage month celebrated with stories and history
De Anza's equity and engagement department held an online Zoom meeting celebrating  Jewish American Heritage Month with cultural poems, videos and testimonies on May 25.
Tabia Lee, the faculty director of  the Office of Equity, Social Justice and Multicultural Education at De Anza, led Zoom meeting discussions as a way to pay tribute to the diverse cultures represented on campus.
"It's important that we uplift and celebrate the various communities, cultures and heritage of the many diverse people in the community," Lee said.
Lee said she wanted to provide an environment encouraging attendees to speak up and express their feelings around events like the Holocaust.
"We're going to create a space for witnessing Holocaust survivors' stories to honor the human spirit of their testimonies," said Lee. "It's OK  to feel a slight discomfort. That's something that is worked through in any type of multicultural education or social justice-focused workshop or engagement."
Lee also played a video produced by USC which shared the experiences of  Holocaust survivors Helen Colin and Tom Lantos. Lee then contrasted their testimonies with the disbelief expressed by some people regarding the  Holocaust.
"I have heard comments on our campus from some individuals casting doubt about whether the Holocaust took place or not," Lee said. "You have people who hold these ideas in that they deny the reality and the facts of history about the Holocaust." 
To further counter  the idea of disbelief, attendees watched "Antisemitism in the U.S. Today," a video countering some of the toxic narratives heard in higher education spaces.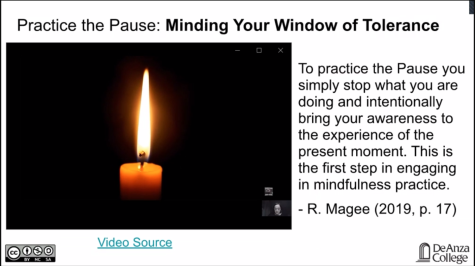 "Despite Holocaust deniers being regularly discredited, they continue to be supported by white supremacist, neo Nazi and antisemitic groups," the video said. "Although they claim proof of a Jewish agenda, there's almost no debate as to the real reason that they attempt to deny the facts of the Holocaust." 
Lee expressed that it's becoming rare to hear from Holocaust survivors. 
"Gabriella Karin, a Holocaust survivor educator who gave a presentation last year at De Anza, shared with us that over 7,500 people were murdered between 1941 and 1955," said Lee.
Lee ended the session by expressing her gratitude to everyone who was present at the workshop. She also conveyed her disappointment regarding the absence of Holocaust survivors being able to share their stories face-to-face. 
"In the near future, there will soon be a day when there are no living Holocaust survivors to share their experiences in person," Lee said.
Although not everyone was able to attend the meeting, De Anza students explained how they felt about culture and acceptance on campus. 
Leon Tran, 19, computer science major, said diverse cultures play an important role in how students interact with each other. 
"I think of culture as being very important on campus because it's both emotionally and intellectually enriching," Tran said. "Different cultures give students creativity, a sense of community and a basis to form an identity out of."
Sandy Chow, 36, film major, said she thinks all people should be accepted. 
"Every culture deserves a chance to be able to be part of the society," Chow said, "no matter how their skin color looks."