New Pride Center aims to make improvements on campus for LGBTQ students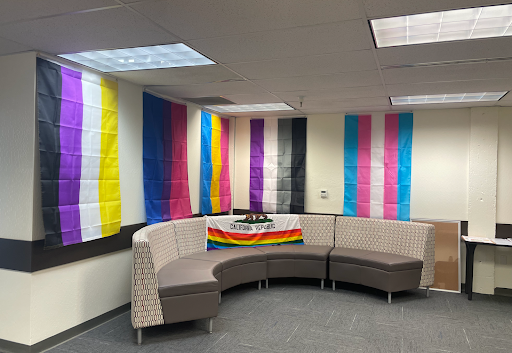 De Anza College opened its new Pride Center this fall quarter in order to build a safer community for students of all gender and sexual identities and provide basic needs resources.
The center is located at Library room 158 facing the S Quad, and is open Monday to Thursday from 9 a.m. to 4:30 p.m.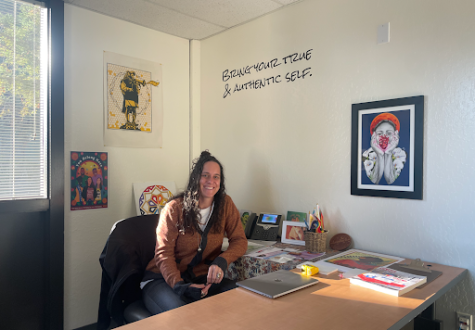 According to Faculty Coordinator of the Pride Center, Jamie Pelusi, the center has been years in the making, with help from students, faculty and the Women, Gender Sexuality Center to organize it. Pelusi said the center acts as a place for students to spend time with other students and have access to basic needs.
"We're not a study center in the typical sense," Pelusi said. "We're a place to study. We're a place to hang out. We're a place to access resources — a place to get your needs met, sexual health resources (and) basic hygiene." 
The Pride center is also now the home of the De Anza LGBTQ+ Alliance student-led organization. The organization advocates for LGBTQ students and holds meetings and events at the center.  
President of De Anza LGBTQ+ Alliance Kestia Dorand said there wasn't a space either on-line or in-person like the Pride Center before. 
"Because of COVID, we had to do a lot of online meetings, which are really hard to feel like they're actually making connections," Dorand said. "And before that, we had the Equity Office, which is a great space, but is a little bit small." 
According to Pelusi, the Pride Center's main focus was to target concerns like Dorand's and create a large physical space on campus for LGBTQ identifying students.
"People were really pushing for a space, a physical space on campus for LGBTQ+ students to feel safe, to have community (and) to have resources to get the support they need," Pelusi said.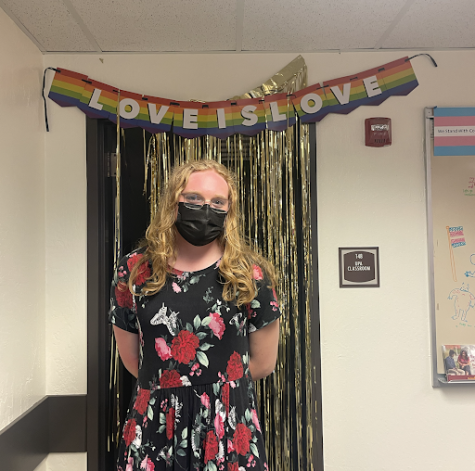 Pelusi said one of their current projects in the works is setting up a closet for students to have access to gender affirming and gender expressive clothing. 
According to Krisani Thar, a first-year international student and communications major, they visit the Pride Center to feel a sense of belonging. 
"I get to be around other queer people, other queer students who I have a lot in common with," Thar said. "It helps me not feel so alone because I'm an international student also and I'm in this different country." 
Pelusi said she never experienced a space like the Pride Center when she was growing up in the late '90s and early 2000s. Pelusi said that had the Pride Center been a space for them when they were younger, they would have been happier.  
"I love the work, and it's also healing for me and for folks that are queer staff here to be a part of these spaces," Pelusi said. "I always think about the money I could have saved on therapy, the fears I could have saved if I had a place where I could just question and be myself and go through that messy process with love, support and consistency." 
To Dorand, the new center is so important to them as a student who is open about who they are.
"It's really nice to know that there's a space I can go because as a very openly queer person, it's still hard when you always feel like you're standing out in every crowd," Dorand said. "Here, I don't feel like I stick out like a sore thumb."