Science, technology, engineering, and math: De Anza alumni offer advice and life experiences
De Anza alumni shared personal experiences of self doubt, discrimination, and job seeking in an auditorium overflowing with De Anza College students on Wednesday, May 6.
Five panelists, invited by mathematics instructor Doli Bambhania, answered questions from current De Anza students in the science, technology, engineering, and mathematics fields.
Four of the panelists were former De Anza students, with the addition of programmer and software developer Barbara Geller, the spouse of fellow panelist software engineer Ansel Sermersheim.
The panelists talked about the different ways to stand out when transferring or job seeking after graduating from De Anza.
Software developer and business strategist Erik Peterson, a former student senator, said having DASB Senator on his application helped him stand out when transferring.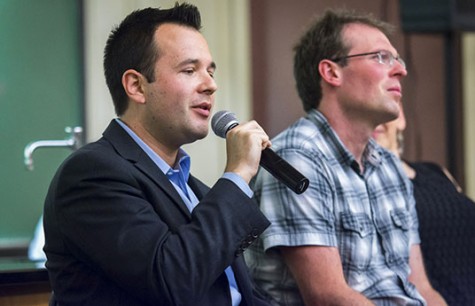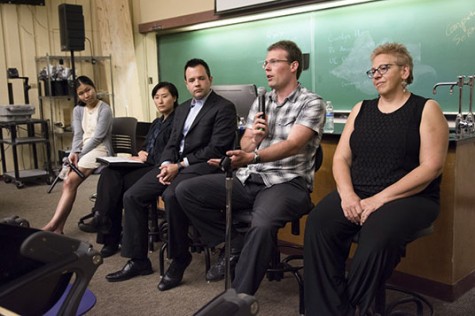 During questions and answers, some students expressed feeling like they didn't belong in the STEM fields.
"It's completely normal," said Carolyn Ho, who studies neurology research at UC Davis Medical Center. "Go back to the reason why you love whatever field you're in in the first place."
Sermersheim agreed with Ho about feeling out of place, saying he believes he is "actually not sure that's possible, because [STEM] covers so many interests… there's something there for everyone."
All the panelists acknowledged that there is a large gender bias in STEM fields.
Ho shared an anecdote about a time a stranger asked her what a "little girl like" her was doing in a directorship position.
The discrimination doesn't extend to just gender, but race as well. Sermersheim said there is a lot of discrimination against people who don't speak English well.
"You will meet people of every color in this job. If you're not prepared for that, don't go into the field,"
Sermersheim said.
Despite discrimination, the panelists urged students to continue.
"Don't give up. Don't give up. Don't scream," Geller said. "Take this as an opportunity to educate the other person. Don't just change your clothes."
Sermersheim said his open source startup company "would love for more female engineers to come in [its] doors. It is our responsibility as an engineering and science community to make this a welcoming place."