Movie Review: NightCrawler
Delving into the underbelly of Los Angeles, "Nightcrawler" demonstrates the ethics and morality of survival and confronts social problems that are presented in media news today.
Jake Gyllenhaal plays Lou Bloom, a loner whose life is consumed by routinely watering his plants, lying to people, and teaching himself photography through the Internet. As a former thief, Bloom's status consists of attempting to latch onto any job and constantly fabricating lies in order to sell and build his own foundation during the ongoing economic struggle. He eventually wanders into the night crawling world and becomes a video journalist, capturing images of the night around him.
Bloom's unwavering persistence as a self-made news videographer gives him the connection that is necessary to his stability and future expansion. As he builds a connection with Nina Romina, a struggling news director played by Rene Russo, he is able to gain her loyalty through his exclusive footage, which he obtains through the help of his assistant, Rick, played by Riz Ahmed.
Nothing seems to hold him down as he constantly finds solutions to all of his problems, ultimately upholding his own motto, "If you want to win the lottery, you have to make the money to buy a ticket." Eventually, his progression as a videographer demonstrates how he creates his own enemy and monster, himself.
Gyllenhaal's performance in "Nightcrawler" is intriguing and different than his past roles. His portrayal of the character will constantly leave viewers disturbed and disgusted as he crawls into the role of Lou Bloom, a sociopath, whose violent tendencies increase as he is faced with anything that threatens his success.
Russo's performance as Nina Romina is a telling one that shows an on-screen chemistry between her character and Gyllenhaal's. Russo portrays her character as a mirror to Gyllenhaal's. Ahmed playing Rick – Bloom's assistant and Kevin Rahm as Frank Kruse, an editor who works for Romina, express compassion and moral ethics in contrast to Bloom and Romina, who both would do anything to maintain and expand their success.
Written and directed by Dan Gilroy, "Nightcrawler" explores the current issues surrounding media news as entertainment. He illustrates Los Angeles as never seen before, frightening and utterly ghoulish. Because this is his debut as a director, Gilroy's film isn't for those who adore mainstream endings. This film will leave you traumatized in a good way.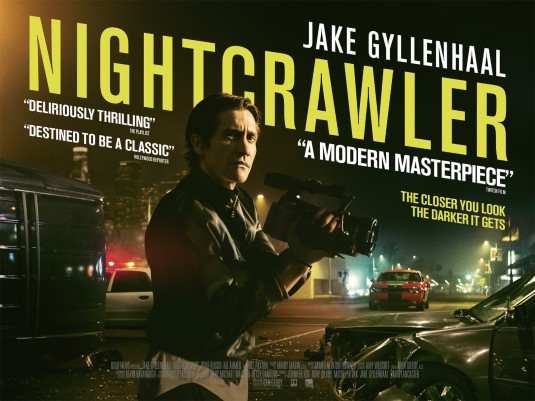 Photo Credit: Photo from www.moviepilot.com