Confront gender-based violence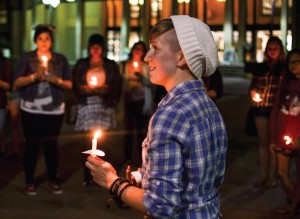 De Anza College students participated in activities and discussions to spread awareness about gender-based violence during Take Back The Night in the Hinson Center's Conference rooms on Tuesday, June 3.
Nearly 100 students crowded the conference rooms to participate in the event.
Guest speakers discussed issues regarding sexual assault, rape, domestic violence and other forms of sexual and gender-based violence.
While both men and women are subject to violence, women are disproportionately affected by it, said Scott Hallgren, who studied sociology at San Jose State University and was affected by domestic violence himself.
Students shared their experiences and showed that sexual violence is a problem that has affected many people within our own community.
"Sexual violence is not a topic that we can bury in the dark any longer," said Melissa Epps, 19, French and Spanish major, who helped organize the event. "We must fight to protect each other and learn that we cannot stay quiet."
According to takebackthenight.org, one in three women are survivors of sexual and domestic violence.
Students walked to the main quad after the discussion and were taught self-defense by 29-year-old political science major Nick Jilka and instructor Arkadiusz Zaczek from the West Coast Martial Arts Association in Willow Glen.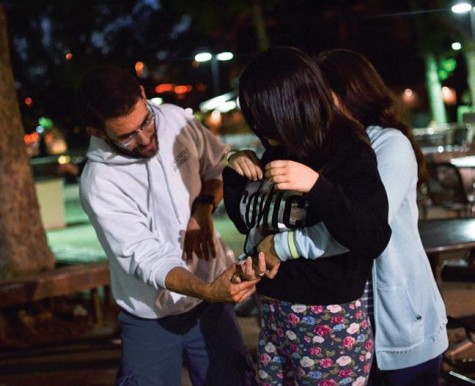 Jilka and Zaczek worked hands-on with students, training them on awareness of one's surroundings to deter potential attackers, and several maneuvers to be used to break free in the event of being grabbed.
They also explained the benefits of pepper spray as a defensive device.
Following the lessons in self-defense, men and women separated into two groups to participate in individual discussions.
Men gathered at the Multicultural Center and talked about what they could do to help prevent gender-based violence against women.
Women of the group gathered in the main quad and led a candle-lit walk around several locations on De Anza's campus.
The march around campus was intended to "reclaim unsafe spaces," according to organizers.
The march featured stops in locations considered unsafe, like the Flint Center parking garage and just outside the Media Learning Center, where a person reported being sexually assaulted in the women's bathroom in November 2013.
Students who participated said they believed their efforts in spreading awareness was effective.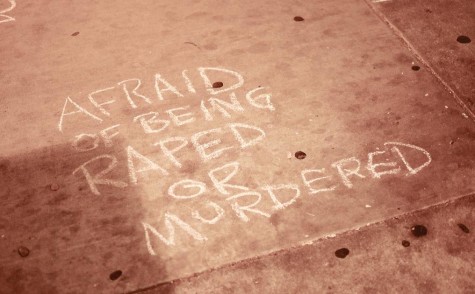 Cecilia Ng, 21-year-old urban planning major, was walking around campus and noticed "people stopping in their tracks to read the writing on the ground."