Crowd brings energy to club karaoke day
The karaoke show on April 17, was a hit and gathered a lively, enthusiastic crowd at the campus center patio, with highlights such as a freestyle rap and a trio of students who ad-libbed "Single Ladies."
The karaoke show began at a slow pace, presumably because most students were too nervous to go up on stage and sing. It took a few performers to get the crowd going before students felt comfortable enough to sing.
When asked about performing on stage, Joseph Ellison, 20, undecided major said, "I did it last year, but I was nervous, really nervous."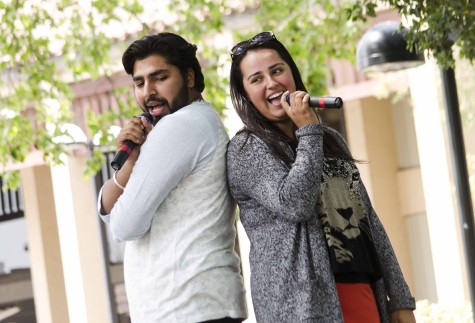 Gorav Bagga, a 20-year-old communications major, began to freestyle during an instrumental section of "A Milli" by Lil' Wayne.
"I just loved the energy of the crowd," he said. "Karaoke is always dope, because no one judges you. You could have a terrible voice, a good voice, all in all its all love here."
Around 1 p.m. the crowd began involving themselves with the performers, singing along to songs like,  "Sexual Healing" and "We Are The Champions."
De Anza students, Ethan Thompson, Jairus Richard and Aaron Tolliver hopped on stage to perform "Single Ladies" by Beyoncé, ad-libbing most of the song. During their performance another student hopped on stage and raised a sign that read "Cheer if you would put a ring on it!!"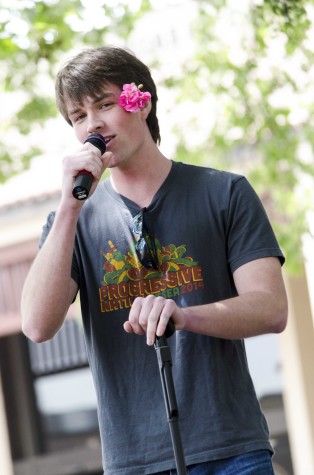 When another student began singing "Careless Whisper" by George Michaels, Thompson, Richard, and Tolliver joined the stage in support and began dancing. Some students in the crowd were waving their cellphones in unison, while others danced.
Another student, Alex Desgrousilliers, 21, communications major, performed a song he wrote and produced titled "One Of Those Bad Days."
Sabrina Heng, 18, communications, said, "I think its nice how they're actually brave enough to go up there and sing."