$15 on-campus massage rocks

2

min read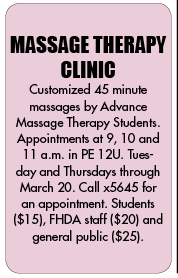 Outside PE10 in the De Anza College PE quad, a young woman eagerly handed out flyers and ushered people into a room.
Upon entering the building, I saw a handful of people sitting in chairs, waiting to be escorted upstairs to receive their full body massages.
I spoke to Aileen Menkin, who was working in the office, and signed up for my first-ever full body massage.
Prior to the actual massage, the massage therapy student asked me about specific pains I was experiencing and asked me to pinpoint locations I was feeling stress.
I didn't have distinct pains so I asked for the typical, run-of-the-mill treatment.
After the brief Q&A, it was time for my massage.
The massage therapist lead me upstairs into a dimly-lit room housing about a dozen or more massage tables.
The sounds of waterfalls and peaceful flutes filled the air.
My massage therapist, Laura Goossens, guided me to a small, concealed area where I could strip down to my undergarments and wear a towel.
Of course, stripping was optional. I could have kept all my clothes on if I chose to.
Once I hoisted myself onto the table and rested face down, the massage began.
Goossens began with my feet and worked every toe then gradually moved upward.
As her skilled hands applied pressure, she asked me in a whisper to assess the level of pressure she was applying to my body with a scale of one to 10.
The communication between the massage therapist and the client was impeccable.
As the massage moved up into parts of the body that might make people uncomfortable, I was asked permission to proceed.
I wanted to the full experience, so I granted her permission.
As the massage moved to my back and to my shoulders, I could feel energy being transferred to me from my massage therapist.
Simply regarding the experience as a "massage" was an understatement.
As soon as the 45 minute massage was over, Goossens gave me advice on how I can improve the tension in my body.
Afterwards, the massage therapist seated me to a desk then handed me a cup of water, and a satisfaction survey.
I gave the massage therapist the highest ratings.
This is the best $15 a student can spend at De Anza.
The price was $15 for a student, $20 for Foothill-De Anza staff, and $25 for the public.
I talked to Goossens after the massage about why everybody should sign up for an appointment.
She said clients get a professional experience and the opportunity to have any specific part of their body closely examined and worked on.
The massage is customizable.
"It increases your own awareness and your academic knowledge of how your own body works," said Goossens. "Ultimately, you gain by learning ways you can help improve yourself."