Protesters demand tapes of Banko Brown's killing released
Editor's Note: This story has been updated to remove references to the shooter being guilty of murder. The DA has ruled the shooting was done in self-defense. 
The Party for Socialism and Liberation organized a rally on May 7 to demand district attorney Brooke Jenkins to release the tapes of Banko Brown's killing. Community members and organizers gathered at the Walgreens on 825 Market St. where Brown was shot, then marched together to San Francisco's City Hall. 
Banko Brown, a 24-year-old Black transgender man and San Francisco resident, was shot on April 27 after an alleged altercation between him and Walgreens security guard, Michael-Earl Wayne Anthony, over shoplifted items.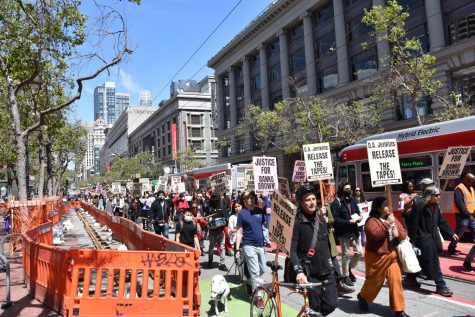 Charges against Anthony were dropped on May 1, with the District Attorney's office releasing a statement saying the evidence showed that he "acted in self-defense."
Lisa Eugene, a member of the PSL and speaker at the rally, called Jenkins' and the SFPD's withholding of the tapes "a crime."
"She's stealing respect for our people, taking away justice and using the law to murder (Banko's) humanity," Eugene said. "Being poor should not be a death sentence." 
Eugene also talked about San Francisco's housing crisis, an ongoing issue that can be dated back to the 1880s. In the city, high rent and food prices have driven more than 7,000 people to live on the streets. 
"We know the struggle of staying housed and feeding ourselves in San Francisco because the city won't fund our basic needs," she said. "We demand justice because we demand respect; when we support (Banko), we are also supporting ourselves." 
She asked rally attendees if they respected themselves to which they responded with a loud "YES."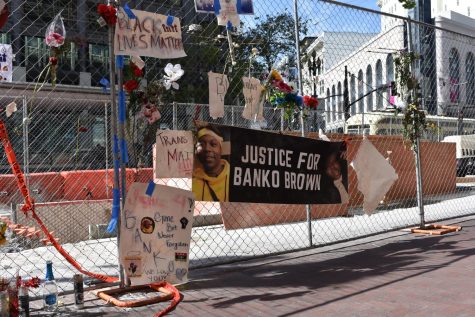 Billie Cooper, a 64-year-old "unapologetically Black trans woman and disabled Navy veteran," shared Eugene's sentiment. 
"What happened to him could've happened to me, to you, to anyone," Cooper said. 
She said that with the recent anti-LGBTQ+ legislations across the country, it is more important to speak up and show she "will not be silenced or taken down."
Brown's father, Terry Brown, attended the rally and described his son as a "lovely, caring person who always looked out for others."
"I need justice for my son," Brown said. "Nobody should get killed over snacks."