National Hispanic Heritage Month finished off strong at De Anza, featuring the first annual pop-up night market event held in conference rooms A and B in the Hinson Campus Center on Oct. 5.
De Anza Student Government and De Anza Latinx Association collectively hosted the first welcoming party for the Latinx members in the De Anza community in hopes of bringing access to resource information onto our campus for those who need assistance and encouraging students to gather together and get to know fellow students.
Standing front-row-center stage, mic in hand, with a captivating smile, is Adriana Garcia, program coordinator of the Office of Equity and organizer of the event, welcoming students, faculty members, and attendees to come and celebrate the Latinx community.
"I encourage you all to check out the helpful booths we have with valuable resources!" Garcia said. "This is a wonderful opportunity to stop by and meet some really great people."
Story continues below advertisement
After guest speakers introduced themselves, the DJ started to play upbeat Latin music to get the night market going.
The room filled with rows and rows of booths; some had vendors, t-shirts, and informative booths with pamphlets, flyers, and sign-up sheets for those interested in becoming more involved in the Latinx community.
Among the faculty present, Agustin Espino, machine tool technician for Design and Manufacturing Technologies at De Anza, showed his display of a few products created in the school's manufacturing lab. One of which was a handmade can-crushing machine that uses one simple lever to condense and crush cans.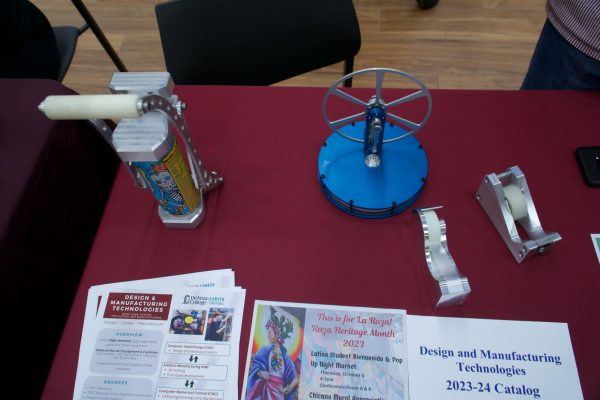 "This class and these projects here help an individual so much when you want to work in the real world with companies." Espino said. "You look at Indeed and other similar websites, and you can see the demand for 3D printing and people with 3D skills is so high."
The event is designed to help individuals explore possible career paths by moving table to table, networking with other students at the other booths, and gaining insights into new opportunities.
Espino said she encouraged students to take a moment and learn the importance of computer numerical control manufacturing and 3D printing in today's world.
"It's important to know and have these skills," Espino adds. "It's a great tool to have."
Espino, along with many other faculty, staff, and students, all converge in solidarity with Hispanic Heritage Month by helping to show De Anza College their support with their presence in the pop-up night market, creating a welcoming place for Latinx students, local Latinx makers, and students in need of resources and information to stop by and enjoy a night of musical celebration.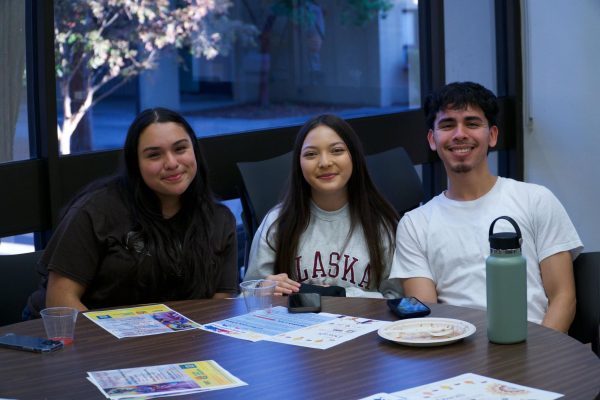 Among the booths, a vibrant array of delicate jewelry, handbags reminiscent of pan dulce, freshly prepared buffet tray meals, and lively music converged, all accompanied by warm and welcoming smiles from students.
Diana Castneda, 18, business and child development major and part of the Latinx Empowerment at De Anza Program, said she supports her community by coming to the event with her friends.
"We're part of the Latinx community," Castneda said. "We're here to encourage each other and bring us all together as one."