Dons draw in tight contest with Foothill College
De Anza slums in 1-1 draw against the Foothill Owls
De Anza's defense stood tall, but missed shots and unforced errors overshadowed their draw against the Foothill College Owls on Tuesday Oct. 13.
The 2nd ranked Dons and Foothill exchanged chances across the pitch. The Owls managed to break through the De Anza defense midway through the first half.
After Foothill took the lead, the Dons looked out of sync and unable to complete passes. Head coach Rusty Johnson said his team did not execute the game plan.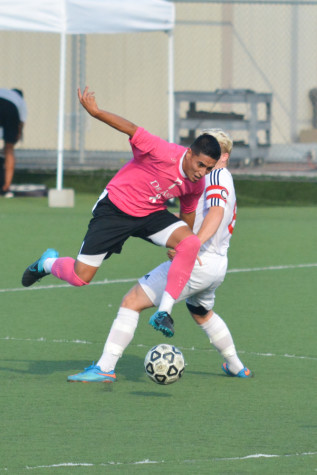 "We struggled to connect passes," said Johnson. "It wasn't because there wasn't space to play. It was just a lot of guys kind of veering from the plan."
De Anza went into the half down 1-0.
The Dons came out flying in the second half, but lacked the finishing touch.
The Foothill goalkeeper made a plethora of saves, with lady luck playing a part in one instance. At 76 minutes, forward Ahmed Mohammed shot the ball, which bounced off the goalie and hit the post, denying him a game tying goal.
The Dons unrelenting pressure led to a goal late in the game. Midfielder Roy Ortiz struck the ball into the back of the net off a corner kick.
The game ended in a 1-1 draw, but De Anza coaches and players left the field unsatisfied with their effort.
"Even though we were able to tie it, still not one of our best performances," said Daniel Galvan, midfielder and co-captain.
Rusty Johnson said he hopes his team learned not to underestimate a lower ranked team based on their record.
"These guys need to learn how to get up for every single game, and not overlook a .500 team like this," Johnson said, "Hopefully they learn something from it, but it was definitely not the result we were looking for, and they definitely came out flat today," Johnson said.
A rough game from beginning to end, Galvan said it came early in the season, which gives the team an opportunity to improve and get better.
The Dons still retained their ranking with this result.
De Anza's (9-1-2) next home game against the Ohlone College Renegades will be on Friday Oct. 23 at 4 p.m.