March in March rally

3

min read
De Anza students, faculty travel to Capitol
More stories from Talia Alvarez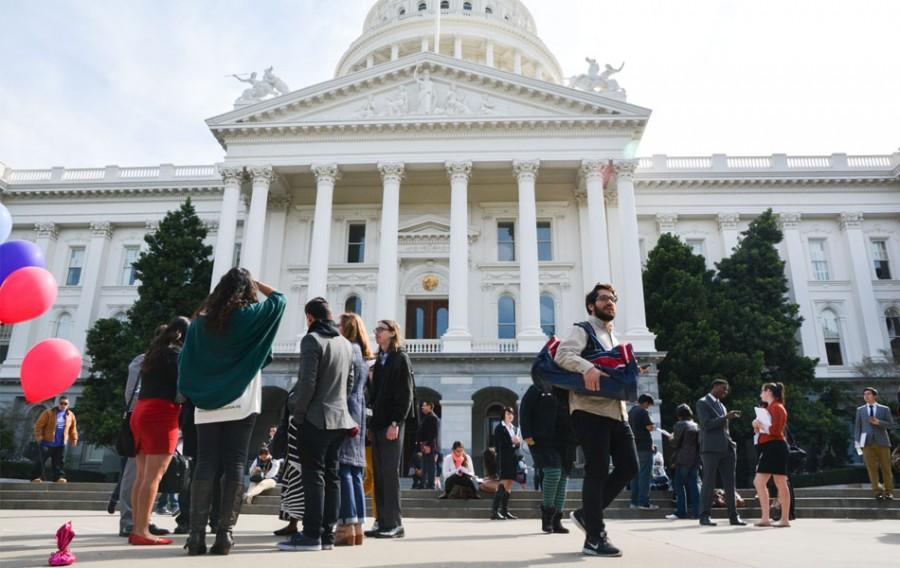 De Anza College students, student senators, and political science instructors traveled to Sacramento on Monday March 2 to speak to South Bay Assemblyman Evan Low and State Sen. Jim Beall as part of the March in March rally.
Students and political science instructors Nicky Gonzalez Yuen, Jim Nguyen, Bob Stockwell and director of college life John Cognetta wanted to remind the legislators about an old goal of making higher education free to the community.
De Anza students and staff also met with Low, a De Anza College alum, who shared his struggles as a community college student and his concern for the youth in his community who are not voting.
"(Students) ages 18 and 19 have a higher likelihood of getting arrested than voting," Low said. According to CNN, only 13 percent of the young adults voted in the 2014 elections.
Low said he encourages students to stand as an "army" with him in order to fight to resolve
important issues.
Before Low's time was up, De Anza student Tung Tran, 28, business major, gave a speech about his struggles as an Army veteran and how community college has helped him cope from his time in the military.
"Vets need special attention," Tran said. "De Anza has limited services for vets. We only have one counselor and it's at the Department of Veterans Affair, which is off campus."
After meeting with Low, De Anza students gathered petitions to reform Proposition 13, which currently allows corporations to avoid paying property taxes and deprives the California educational system of roughly $6 billion every year. Students said they believe by reforming Prop. 13, funding for schools can improve.
"Education is the lifeblood of any growth; if people are educated it can close disparities," said Amna Khan, 18, political science major. "If we center education, no one will go against it."
"
Education is the lifeblood of any growth; if people are educated it can close disparities. If we center education, no one will go against it."
— Amna Khan
At the rally, students from several community colleges gathered in front of the Capitol. Although students did not receive permission to march at the Capitol, students proceeded to march with chants and members pounding on drums, as marchers made their way to the front of the Capitol.
Chants such as, "What do we want? Education! When do we want it? Now! " and "Si se puede!" were heard throughout the
state Capitol.
Several students were given the chance to speak at the rally about their personal tribulations and why they believe it's important for education to be well invested.
"Every individual here has an important take for our future, for our education system, our planet, and our future," said Simone Renee Cardona, council chair of the California Student Sustainability Coalition.
"We are standing at a crossroads in history, one that we have faced many times before," she said. "This, we cannot ignore."
Santa Monica Community College student Robert Andres Espinoza, 24, history and communications major, traveled six hours with students from his campus. Espinoza shared his personal story about his struggles with being incarcerated, being shot at and suffering from depression.
"Instead of allowing someone to use it against me, I use it for my benefit," Espinoza said. "I discovered this is my gift, my purpose in this world; to lead, motivate, empower and
inspire others."