DASG presidential candidate accused of racist rhetoric is disqualified, Anahi Ruvalcaba wins
The De Anza Student Government met for the last time this quarter to approve the elections committee's decision to disqualify DASG presidential candidate Khoa-Nathan Ngo.
Ngo was accused last week of using vulgar language and making racist remarks against fellow students and DASG presidential candidates.
Anahí Ruvalcaba, DASG president, expressed her frustration and defended her qualifications for the position.
"The comments that we would use our ethnic background to conceal the fact that we were unqualified are disappointing," Ruvalcaba said. "In no way are we personally attacking Nathan but rather holding him accountable."
Ruvalcaba's running mate, Sarah Morales, spoke about how she feels Ngo's apology is insincere because of his appeal.
"You say that you understand the gravity of what you said but here you are appealing after there was a unanimous vote to disqualify you," Morales said. "Because of your selfish and unethical actions we're here spending extra time of our day dragging out the entire situation when it could have been solved had you taken accountability from day 1."
Ngo pleaded his case to the senators and chair members by saying that the complaints filed against him didn't pertain to the elections code but the student code of conduct.
"I am guaranteed the right to due process," said Ngo. "I find it a bit concerning that the people who filed the complaint against me found the student council to be the proper means or channel to lodge such complaints, but addressing the complaint that did arise in the elections code."
Ngo also falsely stated he was the Student Concerns Director in the chats, which he defended by saying that when he posted that comment, it was at a time where students were inactive.
"I did not say that I was the Student Concerns Director with full knowledge," Ngo said. "The moment I learned of the miscorrection I immediately took it down and this occurred when the De Anza Discord was at its least active."
Despite Ngo's efforts, no chair members or senators objected to the Elections Committee's decision and Ngo was officially disqualified.
Election results were released later in the evening with Rulvalcaba and Morales being elected to be the next DASG president and vice president.
About the Contributor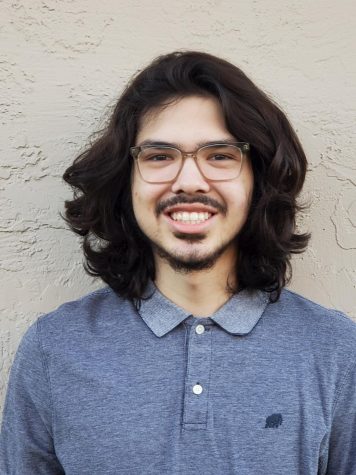 Mathew Bejarano, Reporter
My goals at La Voz is to try to report on student life the best I can during these strange times.