TASTY TREATS FROM TRUCK

2

min read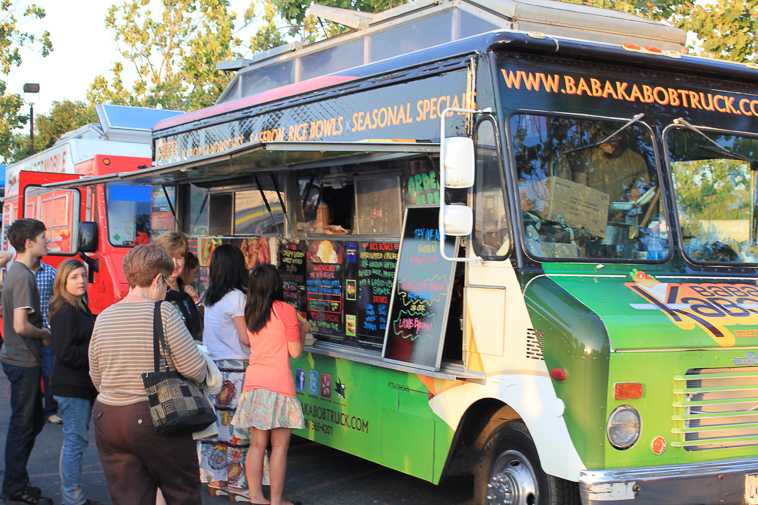 Harold Banks, Staff Writer
May 10, 2013|21 Views
The Moveable Feast street food markets in the South Bay offers a wide variety of flavors to satisfy just about any taste.
Whether you're in the mood for savory Persian-style kabobs or looking to appease your sweet tooth with an ice cream sandwhich, everybody in your group is likely to find something to suit his or her taste.
"We come here at least a couple of times a month," said Patricia Jaramillo, 22 of San Jose.
"Me and my friends can never agree on where to eat, so this is perfect."
Moveable Feast holds several street food markets throughout the South Bay, with the location depending on the day of the week.
On Fridays the feast takes place in the Willow Glen neighborhood of San Jose, touted by their website as "the largest street food market in the Silicon Valley."
On Friday May 3, the Moveable Feast was lively with a steady flow of diners feasting throughout the night. Vendors were open from 5 p.m. to 9 p.m.
The first thing a visitor notices once they pull up to the large lot right outside of the Curtner VTA lightrail station, are the colorful foodtrucks dispersed throughout the parking lot.
The trucks hinted at the party-like atmostphere, waiting at the center of the lot.
The makeshift courtyard consisted of lined-up food trucks and the seating area was filled end-to-end with people standing in lines or sitting and enjoying the live music being played beneath a small canopy.
The number of food choices was impressive, with vendors serving gua bao, a pork-filled Taiwanese mini slider served by The Chairman Truck, to custom-made ice cream sandwiches filled  with horchata ice cream by the ice cream and karaoke food truck Treatbot.
One of the most consistent lines was in front of the Grilled Cheese Bandit Truck.
The Jesse James, a cheddar cheese encrusted sandwich filled with cheddar and black forest ham has been deemed as one of their most popular sandwiches.
It is even tastier when ordered with a side of warm tomato bisque.
The owners of the Grilled Cheese Bandit didn't work in the food industry before starting their truck.
"My business partner Dennis Lynch and I, we come from the tech industry," Shayne Herrera, co-owner of Grilled Cheese Bandits said.
"I love working in the truck. This is the coolest job I've ever had," Herrera said.
The Moveable Feast is open to people of all ages. College-aged couples to entire families were socializing and enjoying their food there.
If you want an easy-going, fun evening centered on food, go to the Moveable Feast. Visit their website at mvblfeast.com for the regular times, days and locations they meet.