De Anza men's tennis team wins first match

2

min read
Dons put on show versus Saints, shut out opponent 9-0
More stories from Steven Hall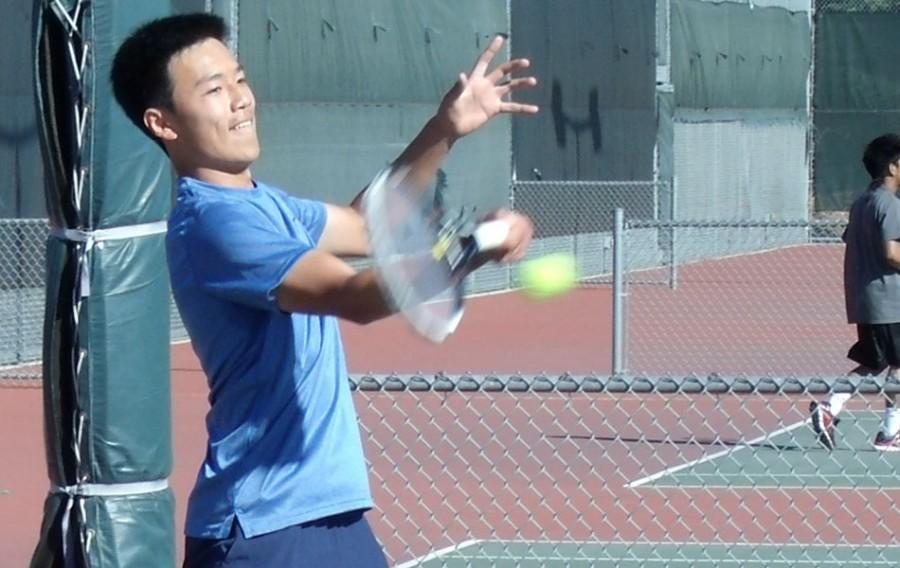 Competitive spirits are prevalent in every type of competition and the De Anza College men's tennis team showed that same voracious tenacity in their game against Mission College on Feb. 20.
"There's a certain energy when you have a lot of people who are really good at what they do." said Michael Luong,22, business major.
The competitive air heated up with a singles match between Kenny Junior "K.J." Prince, 20, of Mission College and Hatif Tavakoli, 19, of De Anza as they continued playing for nearly fifteen minutes after the rest of their teams had finished.
"I wasn't at the top of my game,  but I had to do whatever I could to win, " Tavakoli said.
Despite the De Anza victory, the Mission College team remained in good spirits and showed their competitive edge uniquely, fighting for every point from start to finish.
"We did alright," Webster Diaz, a nursing major at Mission College said. "The first set we didn't communicate and the second set we started communicating and caught up 4-6 even though we still lost."
"I don't feel badly," Mission College's Assistant Coach Rebecca Wheeler said. "De Anza's always had very strong teams."
Even though Mission College didn't win , they showed optimism in how their game turned out and their future against De Anza.
"I don't feel that we played poorly for our first game against De Anza," Wheeler said. "The second time we play them we're going to be a lot more competitive."
Amidst celebrations and congratulations between teammates and opponents, De Anza players expressed an intent to keep pushing themselves to improve.
"We're not used to having these good days because we've been playing very tough teams," Luong said. "Our doubles work definitely needs improvement."
The season's second game was a visible push towards starting strong and was reflected in De Anza winning across the board, but some teams still pose a concern.
"There are two teams that are going to give us trouble." Luong said, "It's going to be Chabot and Foothill."
With the first two games of the season out of the way, De Anza's men's tennis team continued to push themselves and proved they plan on keeping their competitive edge.