Employees and students feel left in the dark about return-to-campus plan
The Foothill-De Anza Faculty Association and Foothill and De Anza College Academic Senate leadership outlined their concerns about returning to campus in an open letter to district and college leaders on May 24.
"We remain troubled by the confusing patchwork of information emanating from our institutions," the letter read. "As well as the lack of transparency around key matters."
Another letter from other campus unions had been sent to the Foothill-De Anza District in early May.
"We asked them for specific answers to questions about expenditures on making the campus safe to return (to) and specific precautions that had been taken," said Tim Shively, president of the Faculty Association and a co-signer of the letter.
Many of the concerns in the letters overlapped, highlighting unclear safety regulations.
"Little has been communicated by the District or the Colleges regarding which classrooms will be utilized in the fall, density of persons in classrooms, offices and buildings, room circulation capacity, and PPE," the more recent open letter read.
These faculty concerns parallel those of students. Out of 2990 student respondents in a return-to-campus survey, 60% reported that they wanted the campus to take additional safety measures.
Student needs for returning to campus are also discussed in the letter.
"Class offerings need to be determined not just within individual instructional areas but across the disciplines and divisions," the letter read. "So that students who decide to return to campus can have the opportunity to choose from among a range of classes and possibly even take their entire course load on campus."
On the same day the letter was sent, Chancellor Judy Miner issued a new requirement for District employees to self-certify their vaccination status in a survey, as per the newest public health order from Santa Clara County.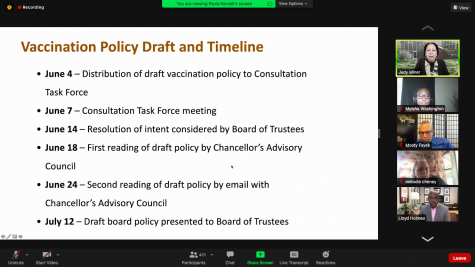 "All businesses and governmental entities in Santa Clara County are required to determine the COVID-19 vaccination status of their employees," the survey read. "People who indicate they are unvaccinated as defined by the County will receive this survey every 14 days to update their status accordingly."
At this time, the District will not require the same vaccination self-certification for students who are not De Anza staff.
To learn more about De Anza's return to campus, click here.