New DASB Senate adviser brings a passion for diversity, equity to student government
New DASB advisor Hyon Chu Yi-Baker eagerly begins her first quarter at De Anza taking on the role as Interim Director of College life. With her experience and qualifications in student affairs, Mrs. Yi-Baker hopes to influence students in achieving a better life with higher education.
With her progressive approach to certain topics, as well as an extensive background in student affair work, she adds a new element of engagement to De Anza to push students to seek their purpose in life and how education can help them realize those goals.
Growing up in the Seattle, Washington area, Yi-Baker began her educational journey as an undergraduate at Western Washington University which first sparked her interest in student diversity programs such as the Ethnics student center. "I was very involved as a student leader, I was very active with our ethnic student center which was a center that did diversity programing," said Yi-Baker. This early involvement in engaging within student leadership pushed her to apply to Colorado State to obtain her major Student Affairs and Higher Education.
She explains how this specific field teaches people how to interact with students in helping them engage more in higher education and their development within their own career/life journey. This is how she began her experience as an administrator who focuses on working with students on a developmental level as she explained.
After finishing her major program in Colorado State Univaristy, she moved to California and landed her first job in the mid-nineties as a resident director in UC Davis and later went on to work in the housing program at CSU Monterey, and at Cal Poly Pomona in L.A. After going back to Monterey, she found her dream job at San Jose State University in the cultural center, which is the whole reason she got into student affairs.
"I wanted to work in a cultural center, I wanted to work with primarily students of color, lower socioeconomic students. Doing diversity/ equity inclusion work," said Yi-Baker.
It was after 15 years of working in student affairs at SJSU that she got a call from De Anza for the position as DASB advisor. "I think her arrival will change the atmosphere of DASB because she seems very open minded and liberal. She wants to change the environment," said Lawrence Liu, a 20 year old film major and DASB senator.
Her equity work with students in terms of marginalized students, and the hope she has for what they can accomplish outside of the classroom sets a premise to what us students hope to see more in the faculty members helping represent our voice. Even apart from focusing more on marginalized students, her overall philosophy on what someone can gain from higher education really sets her apart as a breathe of fresh air for the student body.
"Mrs. Baker gives more backup and support in whatever you need to achieve what you want," said Hayman Wong, a 19 year old political science major who's also a Senator who's worked with Yi-Baker.
"It's really about how we do engage with students in a way that's really meaningful and thoughtful and that they're learning things, not just in the classroom, but that they're also engaged in applying their knowledge in an actual real life application outside of the classroom," said Yi-Baker.
As she tackles her first term on our campus, Yi-Baker continues to progress herself as she is currently working on her dissertation for her Doctorate in studying the application of students in society after graduation. How are these students with higher educations doing in the real world and just how applicable are the skills that they learned?
"She's not a technical person, but she's helping us with leadership," said Kalani Hettige, 24 year old engineering major and DASB vice president.This is the difference between her, and any other advisor that we've had before as a student body.
Someone who doesn't necessarily care about about the grade a student gets, but what the student has in store for their own future and their part in the larger scheme of where they fit in the world.  To give us meaning in our lives and not just seek to barely survive as Mrs. Baker put it.
"I have the capacity to influence a lot of lives, a lot of promising students who are well on their way to do something bigger," said Yi-Baker.
The way she involves herself and has been contributing to the senate meeting and senators themselves so early on shows how much she cares about shaping a bright future and helping the leaders of tomorrow prepare themselves in asking the right questions to actually fix our problems.
About the Contributor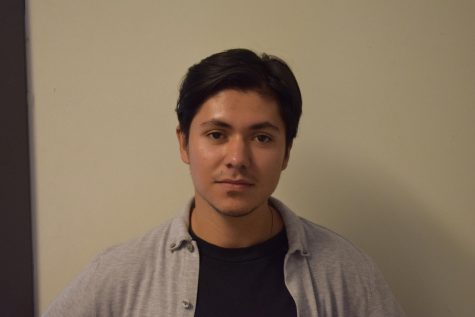 Christian Trujano, Assistant news editor
Christian has been with La Voz News for more than year, starting of as a reporter last Fall for two quarters, back to back, before taking on news editor...