Community policing taskforce aspires to improve student, faculty, police relationship
The Community Policing "task-force" at De Anza College sets out to bridge the communication gap between students and on-campus police to better understand and improve relationships.
The advisory board's first official meeting was on Thursday, Oct. 12.
Mayra Cruz, and Jim Nguyen of the academic senate created this task-force in the spring quarter of 2017, in wake of issues concerning the police and allegations that were being brought up by both students and faculty. It was after this first meeting that spring that it was decided to open up dialogue and to continue analyzing the state of affairs between the campus police and students and faculty.
"It would be nice to see a police officer every once in awhile and say hey Jerry," said Sam Baik, 18, liberal arts major. This concern of wanting to see more of an approachable presence seem to be a recurring one on campus by students.
The Foothill-De Anza on-campus police department serve a total of 37,826 enrolled students. It is currently the largest student body in the Santa Clara county, but at De Anza alone, there are only twelve full-time and six part-time officers.
"I've been going around, I stop, I talk with people," Eric Moody, 22, a part-time student officer said. "I let them know if they have any questions, give us a call. I'll give them a business card; I actually just ran out from giving them out so much."
Perceptions of police officers are still negative, however, due in part to documented cases of police brutality that have been publicized.
"The perception that cops have right now, especially in the media. They're being perceived very negatively," Jennifer Gutierrez, 20, neuroscience major said. "A lot of people are kind of put off by the presence of cops."
To combat the negative perception, Professor Robert Stockwell, an executive secretary for the academic senate and spokesperson for the community policing task-force group, provides some insight on the goals and ambitions for the task-force and it's overall intentions.
"We want to make sure that we're living up to the mission of the college and the mission of the college is to promote everyone success," Stockwell said. "It's committed to equity, awareness, understanding, and engagement. If you approach those conversations with good will, respect, openness, humility, then they're more likely to be productive. And that's true for everybody, in both sides."
After their first meeting, the community task-force is planning on focusing more on gaining feedback from students to see what direction to take next.
"[We want] to create a situation where student voices can be heard, can be registered, can contribute a conversation that's going to promote the kinds of things we want to see," Stockwell said.
The community must understand that the ratio of student and faculty to officers is significantly disproportionate and this task-force seeks to build a voice of the community to better convey issues in a more organized and efficient way. Students and faculty, not just campus officers, have to collectively ome together through meetings like this in order to open up discussion and create a better community.
More information on the locations and dates of meetings days will be posted as the quarter continues.
About the Writer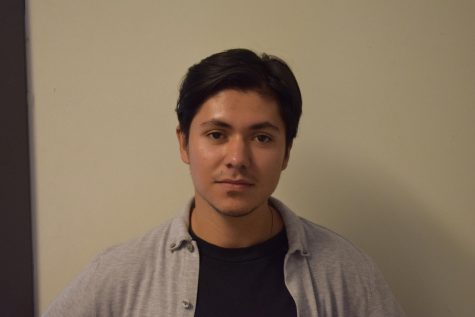 Christian Trujano, Assistant news editor
Christian has been with La Voz News for more than year, starting of as a reporter last Fall for two quarters, back to back, before taking on news editor...