Woman claiming to be undercover police arrested in front of large crowd
The Foothill-De Anza police arrested  a middle-aged, unidentified woman in the main quad in front of a large crowd of upward to 100 students on Thursday, May 18 at approximately 4 p.m.
When surrounded by officers and pressed against a police vehicle, she shouted,"We're all watching. We're all seeing what you do to undercover police. I am undercover police … I am police, and this is my uniform."
The forceful detainment started with an officer asking the woman to leave the area because she had been "acting oddly, yelling loudly, and making threats to administrative staff," an officer, who did not wish to be quoted on the record, said.
Not long after, she began to yell that he was breaking the law by touching her. Within minutes, students quickly gathered en masse, eagerly ready to record the entire conflict while police reinforcements showed up to control the scene.
"They put her down – chest down – wrapped her legs, all while she was cuffed. Their rationale was that she wouldn't get in the car," Manav Walia, 19, psychology said.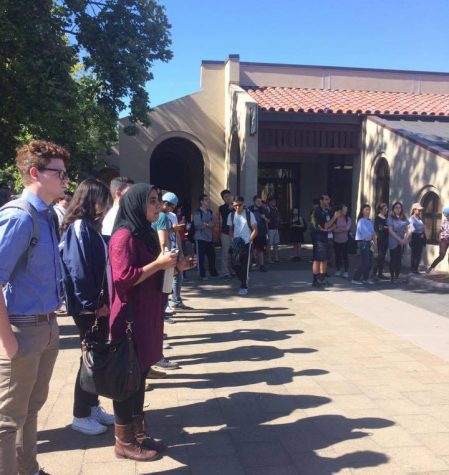 Numerous students reported that she had made unwanted conversation with them about random matters as she aimlessly wandered around the campus for hours.
"She seemed very aggressive and we thought she was under drugs," Olga Smelik, 21, microbiology said. "She did a couple of circles in front of us yelling her name and that she was an honors student. She came really close to us and flicked her wrist right in front of our faces yelling 'you are criminals.'"
Some students said that she approached them to talk about her roommate in the 90's.