Foothill Theater perform a Broadway Musical

3

min read
The Foothill College Music Theater program will perform a rendition of Dolly Parton's Broadway musical "9 to 5," from March 1-18. This will be Foothill's theater director, Milissa Carey's twelfth directed production with the college, and will feature many talented thespians from around the Bay Area, including five current Foothill students and one from De Anza College, Jordan Covington.
"9 to 5 The Musical" was on Broadway in 2009. All music is written by Dolly Parton, and the book is written by Patricia Resnick.
Based on the 1980 comedy flick of the same name, "9 to 5 The Musical," tells the story of three female workers, enduring and overcoming the oppressive, male-dominated corporate world, through the expressive medium of song and dance.
Set in the late 1970s, the musical tells of the three women, Violent Newstead (Glenna Murillo), Judy Bernly (Rachelle Abbey),and Doralee Rhodes (Allie Townsend) who are sick of being pushed around by their obnoxious, chauvinistic boss, Franklin Hart (Aaron Hurley).
Mischief ensues as they plot to get rid of him, acting out their vengeful fantasies as they upturn Consolidated Industries, taking control of their own lives. The song "Shine Like The Sun" is among the most uproarious and director Carey's personal favorites, capturing the savory moment when he women start getting back at Mr. Hart for all his entitlement and rudeness.
This performance will feature a score of elaborate and energetic dance numbers, each conducted by Foothill's new choreographer, Claire Alexander, with 11 songs in the first act and eight in the second.
The production is also enlisting the talents of Dolores Duran-Cefalu as the musical director and Chiara Cola for costume design. The cast meets four times a week for musical rehearsal with Duran-Cefalu, while Cola tirelessly composes a wardrobe of late '70s fashion, in all its pastel-colored glory.
While the onstage misadventures that unfold are full of great gags around every corner, there are also a number of moments that really speak out against inequality.
Many of the songs are anthems of empowerment, encouraging women and men to take action when facing social injustice. "Get Out and Stay Out" is one such song in which the character Judy confronts the issue of sexism and finds the strength to stand up for herself.
"Theater has the power to show our humanity," Carey said, "Even today, we are in a period where in every industry, from news to politics, we're seeing that this issue still affects us."Audiences of every kind are sure to identify with the message against oppression, a key reason Carey felt this was an important play to put on.
The set pieces may still be in design, but Carey assures that the performance will be an enchanting spectacle, and that in addition to tight choreography, audiences can expect to see performers levitate across the stage. See for yourself this coming March.
For an evening of laughs and performance, come see "9 to 5 The Musical," at the Lohman Theater in Foothill Campus, located on 12345 El Monte Road, Los Altos Hills. Parking will be available at Lot 8 and visitor parking passes cost $3 each.
"9 to 5 The Musical" at Lohman Theater
Tickets: $12-$32 per person.
Box Office: 650-949-7360
Or go to foothill.edu/theater/productions
Showtimes:
Thursdays 7:30 p.m.
Fridays & Saturdays: 8 p.m.
Sundays 2 p.m.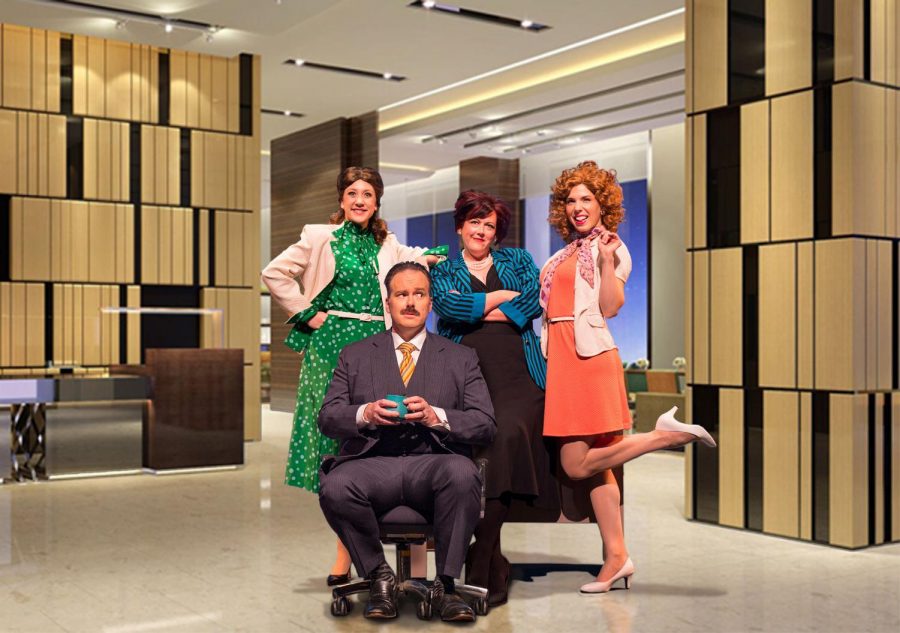 PHOTO COURTESY DAVID ALLEN