De Anza football season review: Head coach Santos will resume playcalling duties in 2018

2

min read
Head coach Tony Santos was not happy with the De Anza football Dons' results this season, and he's taking action.
"I'm going back to calling the plays on offense, so I'll be back as the offensive coordinator," Santos said. "In my 12 years [as] offensive coordinator, I only had one season where we averaged under 30 [points per game]."
The change comes after the team fell short of Santos' bowl aspirations with a 2-8 record in 2017.
"I was expecting to go to a bowl," Santos said. "I was expecting a .500 season or higher."
The Dons offense averaged just 13.8 points per game this season, a far cry from the 30 that was a standard when Santos last held the playcalling duties. The Dons defense contributed to the team's struggles as well, as they allowed an average of 35 points per game.
Much will have to change if the Dons wish to go to a bowl next year. While several of their losses were close, discipline issues plagued them throughout the season.
"I thought we underachieved in terms of our talent," Santos said. "I believe a lot of that was in direct relation to discipline. We had several games where we had over 16 penalties, which, you know, hurts you in a game."
The Dons finished fifth in the six-team Bay 6 Conference. They did improve on the 2016 team's 1-9 record, but clearly, Santos is unhappy with the team's season performance.
The team's closest losses included a 15-9 loss to Chabot at home on Sept. 30 and a 39-32 overtime loss at Santa Rosa on Nov. 11. They also lost two games by two possessions: 27-13 at Diablo Valley on Oct. 20 and 26-14 vs Siskiyous on Sept. 16.
Santos believes the returning freshmen will have a major impact on the team's chances in 2018.
"I think we have a young, hungry group of returning freshmen that want to put the work in, starting now," Santos said. "So it's a good sign."
Santos will look to augment the returning freshmen class with a talented incoming freshmen class. He and the Dons coaches will be recruiting players to come to De Anza until the August 10 deadline.
About the Contributors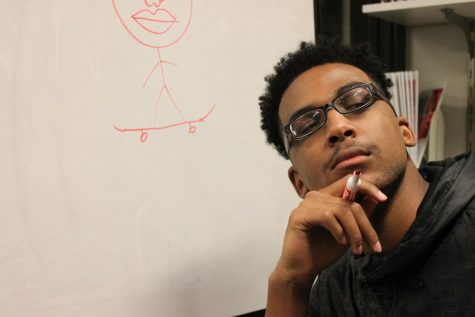 Jarra Gojolo, Sports Editor
Standing at an imposing 6 feet 5 inches, Jarra Gojolo will have no problem OVERSEEING La Voz's sports section (ba-dum-tss). The La Voz Sports Editor has...