De Anza falters in pre-season tournament

3

min read
The De Anza College women's badminton team suffered losses during the Coast Conference Pre-season Tournament on Saturday, March, 11 due to having already played  an intense game against Pasadena City College the day before. The quick turnaround created a strong stamina both mentally and physically for the players.
The team played against three schools in the tournament: Skyline College, City of San Francisco Community College and Pasadena Community College.
"This is a preparation tournament, we will see where we are as a team and decided the competition accordingly," said assistant coach Radu Milevschi.
Rasu played badminton since he was 10 and has coached De Anza's badminton team for eight years.
"I always call badminton playing chess and running a marathon at the same time," Radu said. "You have to look at your opponent's body position and have the ability to pull up a shot-all in a split second."
Head Coach Mark Landefeld said players responding to the aftermath of the intense game with Pasadena Community College the night before was his goal for Saturday's tournament.
"Pasadena beat us pretty good. It was our first match while it was their fourth," Landefeld said.
Landefeld said the players were left with a short recovery time since they left Friday's match at around 9 p.m.
"What we are looking for are how the players respond now that they have had a taste of the competition, the taste of the challenges, demands and focus they need to have during the match that wouldn't necessarily be called upon during training," Landefeld said.
The team focused on opponents, driving, where the shots that crosses the net flatly and matches, winning best two out of three games.
Xueqi Zhu, 21, computer science major used both the mental and physical aspect of the game, while getting ready for the teamwork and balance of playing with a partner.
"You need to have confidence and strong set of emotion," said Zhu. "You can't be afraid of losing so then you can get better and better."
After playing a grueling match, Tiffany Liao, 19, economics major lost 21-11 Saturday. She said she played eight games on Friday and only slept for three hours.
"My performance was rushed, but it's probably because I haven't slept well, but I know that I can beat the other team well." Liao said.
Liao said she likes that badminton relieves stress, especially from school.
Jay Dinh, De Anza badminton alumni and De Anza Badminton Youth Clinic coach, helps coach the girls and assists in desk work when it comes to games.
Dinh said the overwhelming tiredness the players experience may be new for the freshmen, but the sophomores are familiar with back to back play.
"They encounter sometimes two games in one week, not accounting to the daily training and practice," he said. "It is sort of a wake up call, and [you] get a taste of what the game is about: knowing the game, getting through the pre-game nervous jitters, and playing people you have never played before."
About the Writer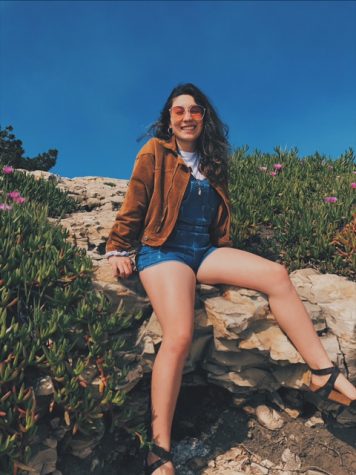 Natalie Valencia, Pop! Assistant Editor
My name is Natalie Vivian Valencia. I am a writer, poet and a creative soul. I enjoy the beach, walks in the park, eating and art. I have a poetry blog...