Dons edge Vikings, 68-65
Forward Nemanja Rajic scored the go-ahead basket with 35 seconds left as the De Anza College Dons defeated the West Valley Vikings 68-65 Wednesday, Feb. 1.
Rajic, 18, computer science major, scored 14 points on four of four shooting to go along with four blocks.
"Before going into the second half Coach Billie told me to focus on two things," Rajic said. "He said I want to focus on talking on defense and rebounding, so that was my motivation for the second half, and the rest followed."
The score was close all game long, with no team leading by more than eight points. De Anza trailed 21-29 before reeling West Valley back in to close out the first half.
Both teams hustled around the court in the second half by coming up with offensive rebounds and stealing opponents' bad passes. West Valley put up an airball with the shot clock running out, but another player caught the offensive rebound, leading to a shot-clock beating bucket with two minutes left in the game.
The teams went back and forth, culminating with a game tying three point shot at one minute remaining.
With 35 seconds to go, Michael Orlich, #10, guard, found Rajic open underneath the basket with a great pass over multiple defenders, one of his 10 assists on the night.
"I like setting guys up to score more than setting myself up to score," Orlich, 20, psychology major, said. He did both on Wednesday, getting a double double with 10 points and 10 assists.
De Anza cranked up the defensive pressure after the score. Marquel Hodge, #15, wing got a timely deflection of a Viking pass, with the possession ending in a West Valley miss.
"Whether it's a deflection, whether it's on the offensive end, it doesn't matter as long as I contribute," Hodge, 19, computer science major, said.
Orlich caught the rebound and made one of two free throws after being intentionally fouled with 15 seconds left. De Anza slapped the rebound out of bounds after West Valley missed a shot with five seconds left.
With one second remaining the Vikings got a good look at a shot from the  from the right corner. The shot bounced up off the rim, landed on the back and creeped off as the buzzer sounded.
As of Feb. 3 this is the Dons' second straight win and they are now 9-12 on the season (5-2 in conference play), and 5-3 at home.
About the Writer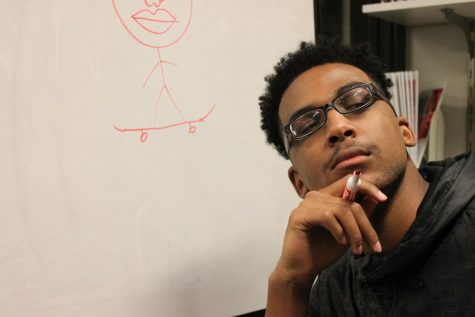 Jarra Gojolo, Sports Editor
Standing at an imposing 6 feet 5 inches, Jarra Gojolo will have no problem OVERSEEING La Voz's sports section (ba-dum-tss). The La Voz Sports Editor has...