De Anza's Homeless Students
Approximately one-third of community college students experience the threat of homelessness and housing instability
Advertisement
Hang on for a minute...we're trying to find some more stories you might like.
In the bustling streets of the Bay Area, hundreds of thousands of people push and pass strangers daily, ignoring those on the streets around them. The few people likely to salvage acknowledgment and compassion towards outsiders are the ones who have been outsiders themselves.
I found this especially true after interviewing two De Anza students who share that down-and-out existence. These two women not only demonstrate qualities of passion, leadership and conviction, but also show the potential for rapid success in redirecting their courses of unfortunate events through knowledge, faith and community.
I first met with film student Christine Bumgarner, who experienced homelessness twice in her life. The first occurrence hit during her teenage years, in Brooklyn, when Italian drug dealers bought their house and blackmailed them to leave.
Forced to run for their lives, Bumgarner, her mother and her sister settled in with few amenities in her grandparents' home and shared one bed. Her mother was disabled, and couldn't go to work, so Christine took up some responsibility as a bookkeeper.
"Here I was, a 17-year-old, and I'm basically pushing through a million dollars a day," Bumgarner said. "I was just on auto-pilot the whole time because that's how I functioned in life … keep going forward and not be in the present, because being in the present was too hard, too painful."
She said she knew the future was going to be better, "because it couldn't be any worse than the present."
Bumgarner's limitless drive and ambition lead her from homelessness to Barnard College to the technology industry, transferring her life from New York to California.
Bumgarner's second time being homeless was just a couple years ago.
"We watched our house burn and then I had to leave," she said. "Another neighbor took us in and as we were walking to her house another came and asked, 'Do you need a drink?'."
Bumgarner said she made sure to build a community around herself when she started a life in California. Her neighbors are her second family.
"I know that bad shit will happen and you need help," she said. "The first time, the family I was born with took us in, and out here it was the family I chose that took me in."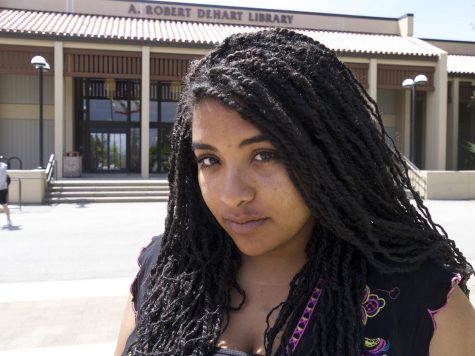 Bibi Samiezade-Yazd
Student Viana Marie Lopez Roland, working two jobs, chose to invest and stay in a car instead of trying to pay lease for apartments.
Student Viana Marie Lopez Roland's state of homelessness was an unfortunate byproduct of her desire to obtain an education from De Anza College.
Working two jobs, Viana, 23, political science major, felt the weight of the prospective stress of paying rent she couldn't afford by leasing an apartment. Viana instead decided to invest in a car to live in.
After joining clubs like Students for Justice and De Anza's Political Revolution, as well as meeting with teachers like Jim Nguyen and Constance Cole, Viana began understanding sociological, historic events that lead to her life of poverty.
Roland explained homelessness as an extreme result of extreme American capitalism. "In order to have our system, you need to have exploitation and you need to have poverty," she said.
Roland said the underlying causes of homelessness is the cocktail of post 1980s "Reaganomics," free trade, anti-regulation, slashing of government funding and the "War on Drugs," which is actually a war on poverty and black communities.
With Viana's unique experiences, she now dreams of becoming a political science professor. "There is this huge amount of perspective that is missing," she said. "You know how many Afro-Latinas are college professors of Political Science? Very few."
She said she would prioritize community efforts, and "what we could do to rebuild our strength and our communities and pay attention to each other and have empathy again, and how to protect ourselves against the system."
Community and college education was the way out of the homeles existence for these women and though they will never forget the adversity of being destitute, it is with these experiences they will move forward and bring reality to full view in the eyes of the rest of us who wish not to see it.