Dylan Kim and Kalani Hettige win the DASB Senate election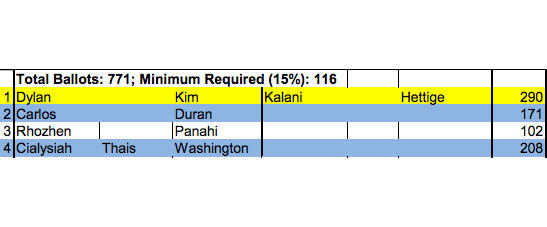 Advertisement
Hang on for a minute...we're trying to find some more stories you might like.
After an overly extended and controversial election process, Dylan Kim stands as De Anza College's newly elected DASB president, with vice president Kalani Hettige.
Kim won 290 votes, with a margin of 82 votes from the second highest voted candidate, Cialysiah "Cici" Washington.
Carlos Duran, with 171 votes, and Washington, with 208 votes, may be sworn in as DASB senators if they choose.
Kim said he believes students at De Anza should have access to more affordable food subsidized by the student government. He would also like to address the issue that some classes are too contested for students to enroll in by adding seats.
Kim allegedly campaigned throughout election week, missing class to make presentations in numerous classes.
The Political Revolution club held their first DASB Senate presidential debate this year, as to where all presidential candidates were present except Kim.
This year's election featured three elections, due to technical issues with the voting system.
Controversy stirred as other Presidential candidates, Rhozhen Panahi and Washington's votes were not counted because they were not accompanied with a Vice Presidential candidate on the ballot.
Originally, the election was extended to the Wednesday of the next week. After Panahi and Washington said this was unfair, a public election committee meeting where it was decided that a brand new election would be held the week of March 13 to 17.