DASB senate candidates' coalition 'United' finds posters vandalized; 'Trump supporter' scratched over candidate's face
Hang on for a minute...we're trying to find some more stories you might like.
*Editors Note – Clarified that presidential candidate Duran does not believe Kamal is responsible for the vandalism
"Trump supporter" was found scratched over a DASB senate vice president candidate's face on Feb. 20.
The candidate's coalition, named "United," also discovered their banners in front of the library and nearby the campus center torn down, and 75 to 100 flyers disappeared throughout the following week costing the coalition around $145 out of the students' personal expenses.
DASB senator Carlos Duran, the presidential candidate of the coalition, said he and his team replaced the banners in the rain and it took a few hours.
He said he believes the vandalism is a result of hateful rhetoric perpetuated by his coalition's rivals. His coalition consists of vice president candidate Andrew Salinas, three chair candidates and three senator candidates.
Duran said some of his opponents have framed "United" as Republicans and President Donald Trump supporters. He said it is inaccurate and that none of the coalition's members voted for Trump.
"Elias Kamal has attempted to attack and promote and run a smear campaign against people he disagrees with," Duran said. However, he said he doesn't think Kamal is responsible for the vandalism.
Elias Kamal is DASB senate's current student trustee. He is running unopposed for the same position.
Kamal said that Duran's running mate, Salinas, is a Trump supporter. Salinas has been a topic of controversy this election for his conservative views and for allegations of being a Trump supporter.
"In terms of his stance on Trump, it's quite shocking and something many students are frightened about," Kamal said. "I and many others were made aware of it from social media and personal conversations with him."
Kamal also condemned the vandalism. He said it is not tolerated within this election, whether Salinas is a Trump supporter or not.
Senate President Matthew Zarate said DASB archives show that campaign material vandalizing in the past had been perpetrated by rivaling coalitions, but there is no evidence yet as to who might have vandalized campaign materials of the United coalition.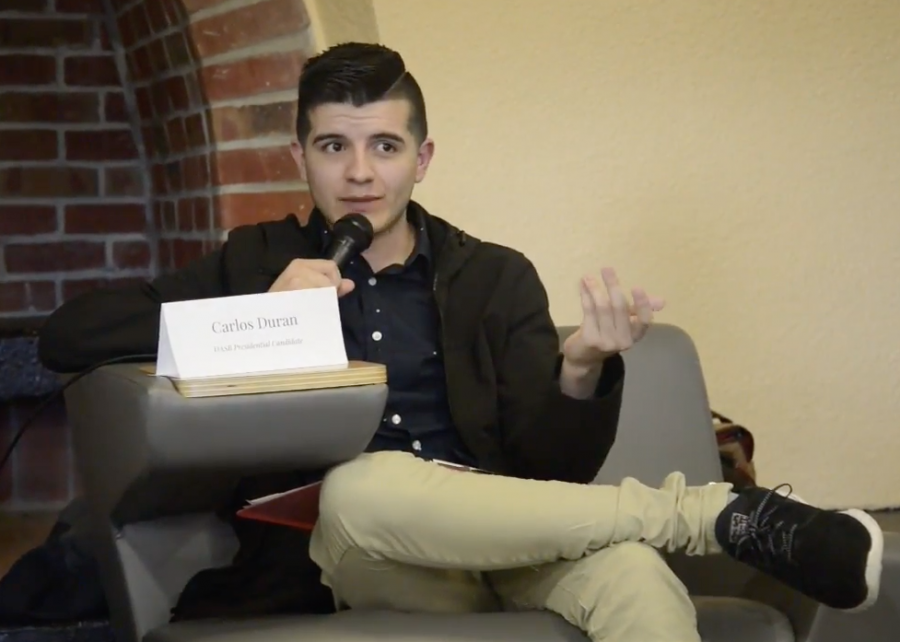 During the Feb. 23 presidential candidate debate, Duran was asked by an audience member, "How can you say you'll support marginalized groups … while your vice president is a proud and vocal Donald Trump supporter?"
"That's unfortunately impossible for me to know, and that's impossible for you to know because being involved in the military, it prohibits you from sharing who you voted for," Duran said.
Salinas said, "I understand the elections were a tough time, but military personnel do not discuss our political views while in service. Our job is to protect, defend and serve."
However, military regulations indicate that service members are only banned from political advocacy if they are in uniform; outside of military duties, they are free to discuss politics and attend political events.
Duran and Salinas said they don't believe their campaign was affected by the vandalism, and believe their message will resonate with students regardless.
"We are here for the students, to help make the campus a safe and, most of all, equal environment for all students from different backgrounds." Salinas said.