DA Voices: Hopes and fears for 2021

2

min read
As De Anza College students transition into the new year, they reflect on their new hopes and fears.
Amy Chan quit her customer service job in 2020 because of the pandemic and has since focused on being a full-time student.
"My hope [for 2021] is to transfer to San Jose State University for the graphic design major because the school has a good program," said Chan, a 20-year-old graphic design major and La Voz reporter.
Chan said she worries about the economy.
"It's quite hard looking for a job right now," Chan said. "In one opening, there's hundreds of people that applied."
Vi Nguyen, 25, another graphic design major and La Voz reporter, also said she's searching for a job.
"I'm really hoping I find a job in graphic design," Nguyen said. "It doesn't need to be directly in the field, but it can just be related."
Ngyuen said she's considering starting a business designing and selling socks.
"I have thought about where I would get my supplies," Nguyen said. "But I haven't done proper research for it."
She said she aims to be more productive in 2021.
"I'm hoping that by the end of the year I could be productive about completing those goals," Ngyuen said.
Kaylee Flores, 19, journalism major and La Voz reporter, said she made New Year's resolutions to be more active and go outside more.
"I'm taking yoga, which is really exciting," Flores said. "I feel like it's super helpful for mental and emotional needs."
Flores said she feels anxious about the pandemic and the distribution of the COVID-19 vaccine.
"I just want to get the vaccine as soon as possible," Flores said. "It just seems like it's going to be stressful because of how California is distributing all the vaccines."
Flores said she wants to continue changing in 2021.
"I've changed and matured a lot over this pandemic and going into this year," said Flores. "I've really found myself much more during the lockdown."
About the Contributor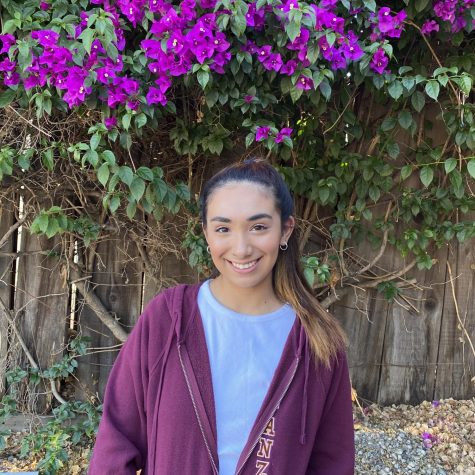 Andrea Infante, Staff Reporter
My goals at La Voz/in journalism are to connect with others in the community through story telling and improve my writing.