MGMT evolve its sound in 'Little Dark Age' album
MGMT's fourth album, "Little Dark Age," released on Feb. 9, is a captivating display of varied synth pop production, with lyrics that speak to the millennial generation.
Ben Goldwasser and Andrew VanWyngarden's previous music under the name MGMT sounds drastically different from this new album. They have experimented with modern pop, psychedelic rock and experimental rock in their previous three albums and now continue to evolve their sound with "Little Dark Age."
The album's opener, "She Works Out Too Much," is an upbeat pop song about someone getting dumped for not working out enough. This humorous tune showcases the layered production of the entire record with its glittery synths, moaning electric guitar and closing saxophone solo.
Although the song "When You Die" follows a similar pop structure, it stands out with a more nostalgic, angry tone. The acoustic guitar serves as the track's backbone while the pop duo sing haunting threats like, "We'll all be laughing with you when you die."
The title track, "Little Dark Age," is even darker, with its throbbing bass, cryptic and fearful lyrics, and driving "Blade Runner"–like synths. Near the end of the song, MGMT comments on police brutality, applying the track's fever dream atmosphere to something very real.
MGMT's lyrics become even more relatable and relevant on the track "TSLAMP," an acronym for, "Time Spent Looking At My Phone." Propelled forward by a funky bass line, the song discusses phone addiction, with lyrics like "Turn you off but can't detach" and "Find me when the lights go down, signing in and signing out."
Pop ballads like "Me and Michael" and "James" add more variety to the album's aesthetic. "Me and Michael" is too simplistic in its melodies, but "James" is a beautiful tribute to a close friendship, dedicated to the guitarist in MGMT's live band, James Richardson.
The album even has an instrumental, "Days That Got Away," a chillwave song with wavy synth chords, spacy percussion and more funky bass.
The final track, "Hand It Over," ends the album on a psychedelic, peaceful note with muted guitars, soft vocals, and drums.
Overall, "Little Dark Age" is a fantastic album, with just enough variety to still be engaging without forgetting its synth pop aesthetic. If you want a nostalgic, darkly humorous album to listen to, MGMT's latest triumph is for you.
About the Writer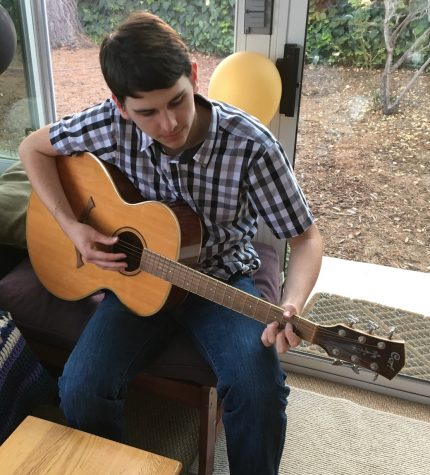 John Bricker, Opinions Editor
John Bricker is an experienced reporter and writer at La Voz News. He writes novels and short stories in his spare time, and has written news stories,...