"The Greatest Showman" proves to be more than just another musical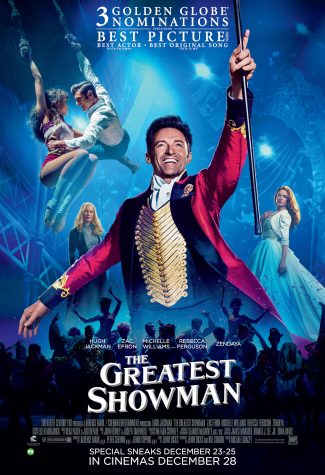 "The Greatest Showman" is an uplifting, over-the-top musical film inspired by the life of Phineas Taylor Barnum, an American showman who widely popularized the circus and oddities entertainment business through the "Greatest Show on Earth." Truthfully, I was not expecting much from "The Greatest Showman" other than it being another "La La Land", but it proved to be much more.
Michael Gracey's directorial debut features Hugh Jackman, Michelle Williams, Rebecca Ferguson, Keala Settle and Disney's own Zac Efron and Zendaya.
The star-studded film recently won Best Original Song at the Golden Globes and was nominated for two other categories — Best Motion Picture (Musical or Comedy) and Best Performance by an Actor in a Motion Picture (Musical or Comedy).
"The Greatest Showman"s core cast personally sang the songs for their respective characters, including Jackman and Williams. Zendaya and Efron's performances can easily be attributed to their Disney background, and Efron's role in "High School Musical" prepared him well for the movie.
Both Efron and Zendaya performed their own trapeze stunts and worked with aerial acrobatic rings, which require a lot of core strength and stamina. In the film, they looked like long- time professionals.
Settle, who plays the Bearded Lady, is the character that excels vocally and stands out the most. Coming from a Broadway background and with more than 13 years of experience, she sang with purpose and knew how to move the audience. Many of the songs sung by Settle were done acapella — impressive.
The musically-driven movie synthesizes modern beats and vintage charm as it follows P.T. Barnum, played by Jackman, who learns to fend for himself with little means and literally create magic out of dust.
Jackman's portrayal of Barnum is both inspirational and enchanting. The ability to make the best out of bad situations and add the element of magic and surprise, whether real or faux, is another delightfully entertaining aspect of the film.
But the film goes deeper than just good sing-a-long songs and impressive choreography; it also highlights socioeconomic inequality, personal moral dilemmas, and the realities of privilege and social racism, all while still developing a love story between two of its main characters, Anne Wheeler (Zendaya) and Philip Carlyle (Efron).
I found it both daring and mindful to include racial issues that ocurred during that time considering the recent prominence of racial issues in public discourse. The love story development between Efron and Zendaya tie into these issues and both give a nail-biting performance while still keeping the risks of romance alive and worthwhile.
"The Greatest Showman" ultimately teaches an important life lesson that one might not expect from a musical movie about the circus — that no matter what life throws at you, persist on and pursue your goals.
It's certainly family friendly but maybe not ideal for a date – wait until this one reaches Netflix if you wanna "Netflix and Chill". However, it still exceeded my expectations.
Packed with visual and audible entertainment and an inspiring story about hopes and dreams — "The Greatest Showman" teaches viewers that  if you open your eyes and open your heart, maybe, just maybe, your dreams might come true too.
"The Greatest Showman" truly delivers and lives up to its name as being advertised as the "Greatest Show on Earth" by P.T. Barnum.