Upgraded printing services offer charging station and more
Advertisement
Hang on for a minute...we're trying to find some more stories you might like.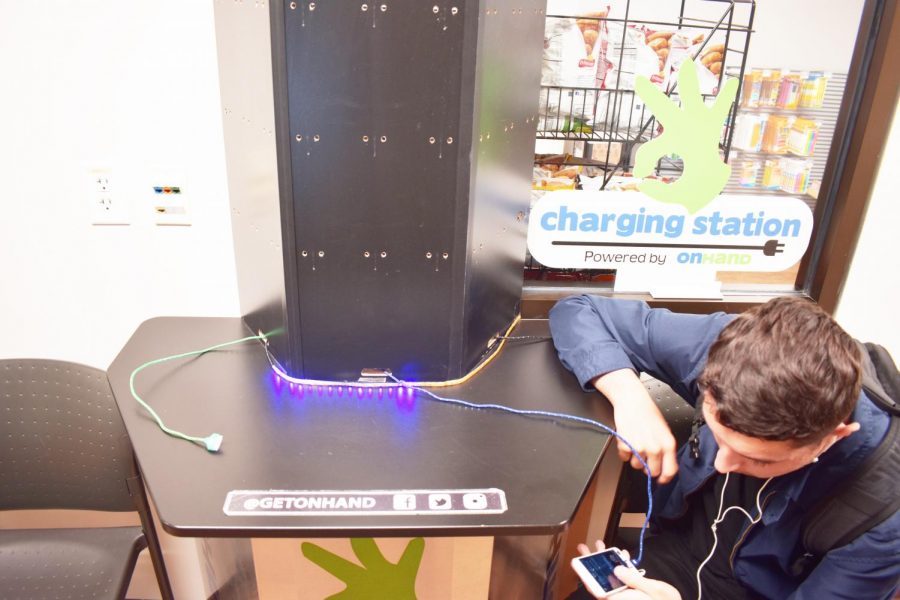 The remodeling of De Anza College's print shop turned out to be a good investment and the spacious change has not only created more room for students and staff to maneuver around in, but the shop now has supplies and goodies on deck as well, making the facility more of a "one stop shop."
Print shops at colleges can get busy and jammed because of students and staff's high demand for services on a daily basis. It's impossible to fulfill service request if you don't have the proper space or equipment needed to get the job done, but thanks to Kelley Swanson, Director of De Anza's bookstore and Print Shop Coordinator, for her idea to remodel the print shop taking her students in consideration. "During remodeling process, I took a good look at the student's viewpoint and evaluated the floor plan of the shop in order to remove the big wall that divided the front of the shop from the back and decided if we removed that one wall, that would open useful floor space and make the shop a more comfortable place to visit," Swanson said.
There were several computers lined against the wall for students to use, chairs throughout the area and a few tables for additional work space. At the register was a display full of  supplies and snacks. "We understand students work really hard and don't have a lot of time; that's the reason for the snacks, Swanson said. "I was really excited seeing students come into the shop with their parents and take care of all the copy services they needed for enrollment right on campus, purchase basic supplies they needed and even buy a snack if they wanted to, all in one place."
"De Anza's print shop was relocated to this primary location because the original location of the shop was somewhat inconvenient for students and staff," said Lily Liang, De Anza's Print Shop Coordinator. "The relocation and now the remodeling has made this place a more work friendly place to be."
In the back space of the print shop were several print equipment and supplies for copy use, still with a lot of available space for more. "This is all for faculty only and even with all this equipment we still have so much space to move and now we're not all crammed in small space," Liang said.  
"I really like the remodeling of the print shop now because it has more computers and chairs for us to sit in if we're going to be in here for a while, compared to the old facility before the remodeling," said student Rabina Bisht, 20, business major. "This one is so much more roomy and useful."
Everyone seems to be enjoying the changes and from the sounds of things, there are still more changes to come. "We're working to get financial aid help for students that can't afford our print shop services fees, so that the students that qualify for financial aid, can possibly get grants or vouchers to cover their print shop fees," Swanson said. "But for now, we're just taking one thing at a time."