Filipino students find open arms at PUSO club open house

3

min read
Pilipino Unity Student Organization's Open House, their first meeting of the quarter, started off with a standard powerpoint that was concluded with Happy Birthday loudly sung to embarrassed president Elizabeth Rivera.
Rivera, 20, international relations major, said the club talked about upcoming events and workshops, what PUSO is doing as an organization and the "Kuya"/"Ate"/"Ading," Program or KAAP.  
KAAP connects "kuyas," or older brothers, and "ates," or older sisters, with "adings," younger siblings. Vice president Phil Daquigan, 20, biology major, said the KAAP mentorship is more or less a life mentorship.
Afterwards, members put down their plates of pizza to participate in an "isang bagsak," or unity clap, led by secretary Matthew Dumanig, 19, computer science major. He invited students to feel their heartbeats and clap together, increasing in speed, until loudly concluding "Isang Bagsak!"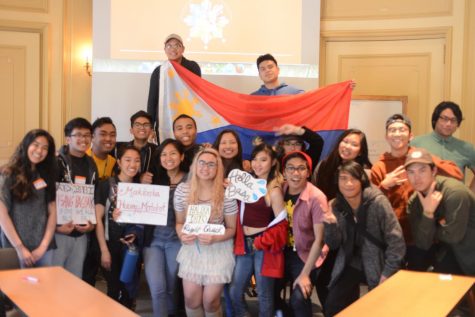 Although the meeting was officially over, students stayed around, singing along to bops from Mariah Carey and Aminé and finishing off the free food.
PUSO went from being inactive and on probation to a lively family participating in civic engagement, workshops, cultural growth and mentorship programs.
Matthew Dumanig, 19, computer science major, said he always took pride in being Filipino, but felt a disconnect with his culture. He said his time with his high school Filipino folk dance club was his first time feeling family with his friends, and he wanted to bring that to PUSO.
Dumanig said he was also inspired by San Jose State's Filipino community, "Ak Abayan," which had a KAAP program he participated in. He said he wanted to recreate having people to go to for life advice and have deep talks with until early in the morning.
Daquigan said he didn't really like how the club was run when he initially joined a year ago.
"Through [the past president's] consent, we took over a bit more and now PUSO is what it is today. It was a lot of hard work."
Rivera said PUSO was "pretty much dead last year." Over a year, she said, five dedicated board members worked to create an atmosphere of community and family.
"It was definitely worth the struggle," she said. "People come up to me and say I really look forward to PUSO!"
A first year De Anza College student came up to her and told Rivera that even in high school, she hadn't felt this sense of family.
Daquigan said PUSO has improved his leadership skills and gotten him closer to his own roots. "I have become more civically engaged," he said. "I would say I've become decolonized."
"A lot of our board is relatively progressive and politically engaged," he said. "One of our main focuses [is] to empower our members in our club." Dumanig said he wanted to make members feel okay with being Filipino.
Club member Ariella-Arden Obsioma, 19, business marketing major, helped set up the meeting before class, and came in right after class to help support the club.
Going into college, she thought she wouldn't find friends, but since joining the club in the Fall, she's been able to create strong bonds quickly and easily.
"You don't have to be Filipino to join the club, as long as you're curious about [the Philippines]," Obsioma said. She highly encouraged people to try experiencing another culture, and be around a distinct group of people.
"If you're really looking for someone to connect with, and have a familial feeling with, this is the place to go," Daquigan said.
Rivera said the club hoped to hold a spring cultural event in June, where different organizations on campus could create solidarity by having a performance night.