Cuffing Season looms over De Anza College

2

min read
As the leaves start falling off their trees, people start falling for each other.
As we get deeper into the school year, we reach a special time of the year. A time for fun activities like flexing in your best outerwear, decorating your home for the holidays, or cuddling with that special someone.
But accomplishing the third activity takes much more effort than just spending money. (I would hope) Cuffing Season is where single people look to find that special person to cuddle with.
"Everybody decides to get wifed up, and sh*t," said Rayshon Mills, 21, communications major, concisely summing it up.
The Urban Dictionary definition of Cuffing Season explains this in a little more detail. "During the fall and winter months, people who would normally rather be single or promiscuous find themselves along with the rest of the world desiring to be 'cuffed' or tied down by a serious relationship. The cold weather and prolonged indoor activity causes singles to become lonely and desperate to be cuffed."
De Anza students approach Cuffing Season in a variety of ways. Alejandro Hernandez, 18, business administration major said, "I'd probably get their Instagram or Snapchat… maybe in class."
He isn't the only person who would use social media as a cuffing weapon. "[I would] just like a couple pictures and hope they shoot their shot," said Salima Mohammad, 21, biology major.
An eternal question for college students is how to balance out school with their romantic relationships. "I want to focus on my studies, but if someone nice does come along I wouldn't mind," said Kiran Aftab, 18, engineering major.
Although a lot of Cuffing Season relationships fail to make it past spring, a warm body to cuddle with and do adult activities with is crucial if you want to keep from being lonely this winter.
About the Writer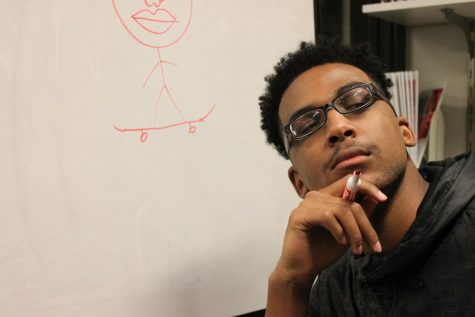 Jarra Gojolo, Sports Editor
Standing at an imposing 6 feet 5 inches, Jarra Gojolo will have no problem OVERSEEING La Voz's sports section (ba-dum-tss). The La Voz Sports Editor has...