Former De Anza student athlete heads overseas to play basketball

2

min read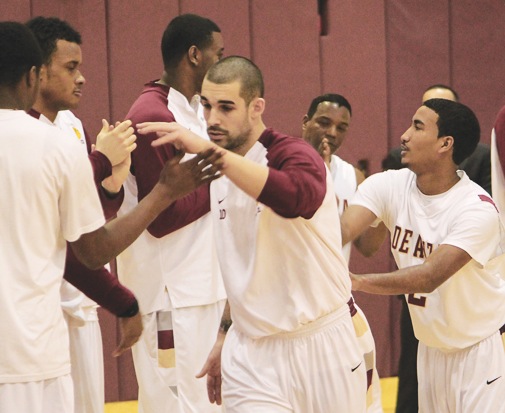 Stefan Demirovic, a 22-year-old shooting guard, began playing overseas at Radnicki Beograd in Serbia after finishing winter quarter at De Anza College.
He was 5 years old when his dad handed him his first basketball and signed him up for a basketball club.
He grew up in Bar, Montenegro, a country in southeastern Europe, graduated from high school in North Carolina and transferred to De Anza in 2010.
Demirovic was not recruited by De Anza men's basketball head Coach Jason Damjanovic.
"He recruited me in a sense," Damjanovic said.
He had not seen Demirovic play previously and his first impression was that he had great footwork and a good work ethic.
Demirovic had a bigger impact this season than in his freshman year, the coach said.
He described Demirovic as being a role player in the 2010-11 season.
Because Demirovic was injured at the beginning of this season, he started with rough footing.
"He came back when we experienced a multitude of injuries he stepped right in," said Damjanovic.
"He worked hard to earn a starting position and made an instant impact."
To Demirovic, basketball means the whole world.
"It sounds cliché, but when you come from a country that has been through wars and economic disaster, and where educated people can't find jobs [or] they are getting $300 a month to feed their entire family, you need to find a way out," Demirovic said.
"Knowing that I'm on the good way in getting my family out of struggling is what motivates me and keeps me going."
Demirovic said he has matured in his time at De Anza and has become a stronger individual.
"De Anza was another life experience for me," said Demirovic. "It was one of those factors that made me grow as a person."
Although basketball comes first at the moment, he plans to continue his studies in business administration and management wherever he signs next season.
Because of the burden of international fees, Demirovic accepted and signed the 14-game contract with Radnicki Beograd.
People may not know that off the court, Demirovic is a great cook who likes to make others laugh.
"I'm still a Disney kid and small gestures from people still make me happy," said Demirovic
Demirovic's motivational message: "Be different, believe in your dreams and do the things that you love and make you happy."