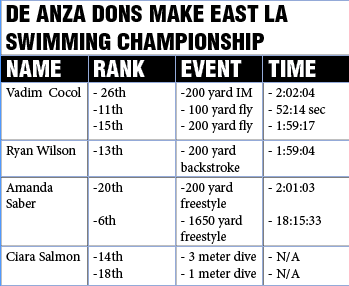 Three swimmers and one diver represented De Anza College at the 2013 California Community College Athletic Association Swim and Dive State Championship, at East Los Angeles College on April 25-27.
This was the largest team De Anza has taken to the State Championship so far.
Sophomore Amanda Saber, and freshmen Ryan Wilson and Vadim Cocol swam, while Ciara Salmon competed as the sole diver from the college.
Despite injurying her elbow a few days before, Saber went on to swim all of her events and was the only girl representing the De Anza swimming team.
Story continues below advertisement
"While swimming is normally perceived as an individual sport, the 2013 swim and dive team really challenged that idea," Saber said.
Freshman Ryan Wilson swam his best event, which was the Men 200 yard backstroke.
"We all had an amazing season and none of that would have been possible without all of us cheering each other
onto victory!" said Saber.