Dons strike out against CCSF Rams 3-1, go 0-3 in conference

2

min read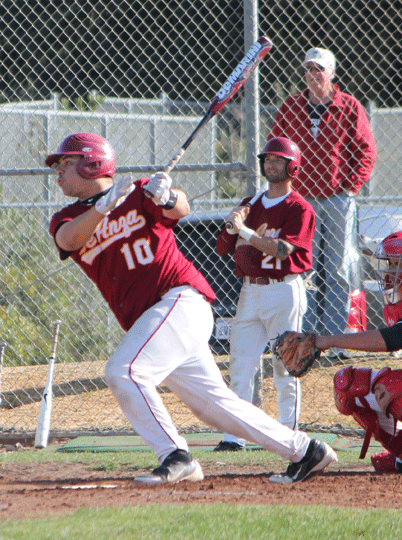 The Dons lost 3-1 to the CCSF Rams on March 5, as they finished the game 1 for 11 with runners in scoring position.
Dons' stalwart centerfielder, sophomore Corey Kingston, set the tone early versus City College of San Francisco's right handed starting pitcher John Patrick Dunne.
Kingston represented the tying run at third base with nobody out in the bottom of the first inning, but it was all for naught as he would remain stranded at third following three straight outs.
The Dons' lone hit with a runner in scoring position was a bunt single that did not bring a runner home
Head coach Scott Hertler lamented, "We just couldn't get hits with runners on base."
De Anza's starting pitcher, right-handed freshman Jack Rader kept the Dons in the game, retiring 10 straight Rams at one point. Rader would not allow his second hit until the top of the sixth inning and gave the Dons six strong innings, allowing only two hits overall — two runs and one earned.
But Rader was on the hook for a loss as his lead-off walk resulted in the difference of the game, the Rams' second run.
The freshman pitcher was pulled immediately, failing to record an out in the top of the seventh inning.
"I'd like to see him get into the seventh inning," Hertler said.
The Rams' crisp defense robbed De Anza hitters of extra base hits on numerous occasions and the Rams' pitchers executed key pitches in clutch situations, inning after inning.
"San Francisco's a good club. Their pitching was good. They scattered the hits. We couldn't get a crunching blow," Hertler said after the game.
He said he knew his team let the Rams off the hook. "We out-hit them 10-3. We made one error. We played solid on defense," he said.
After Tuesday, the Dons are 0-3 in the conference, with a 6-8 record overall. They will face the Rams again on March 23 on San Francisco's home field.
The Dons have the pieces in place; it's just a matter of execution. Whether the Dons reflect on losses like this as the one that cost them a shot at the playoffs or as the game that woke them from their malaise will rest solely upon the shoulders of the players.