The aesthetics of rebellion:

1

min read
Art of Protest exhibit looks back at the politics of the '60s and '70s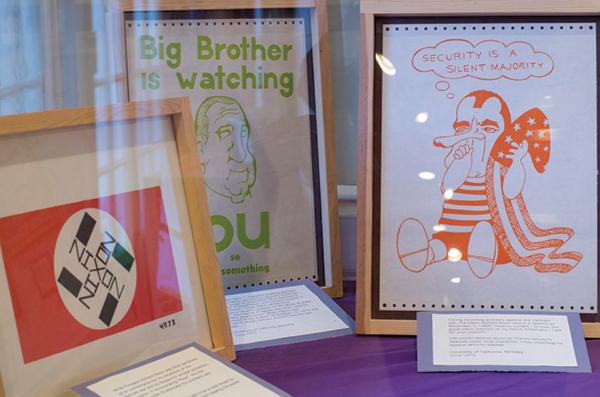 The exhibit "Art of Protest" focuses on posters compiled from the 1960s and 1970s from protests at UC Berkeley and UC Santa Cruz collected by Sharat Lin.
The posters, on display at De Anza College's California History Center, cover topics ranging from anti-Vietnam war to environmental pollution.
Lin explained the elements of history the posters depict at a reception Jan. 17.
The "Stop War" poster is linked to a rally on May 21, 1970.
Other posters show artistic influence and trends of the subject matter.
"Amerika is Devouring our Children" was influenced by a Francisco de Goya painting of Saturn devouring his children and was used at the Oakland Induction Center picket on May 26, 1970.
The posters were developed by the most cost efficient process of the time.
"Each poster design was a punch card program and then silk screened onto computer fan out paper," Lin said.
Posters were used as a means of spreading information in a time before social media or even the World Wide Web.
Gil Villagran, professor at San Jose State, said posters are a key element of protest.
"(Posters) tell you what the issue is and what the action is." Villagran said, "like an advertisement."
Lin, president of the Peace and Justice Center of San Jose, began collecting posters while attending UCSC.
"They looked too attractive to me to be allowed to deteriorate under the weather and be lost forever," Lin said.
He started out collecting "mere momentos of these epic experiences," he said, and his collection grew into a visual piece of history that has appeared from Bancroft Library at Berkeley to Hoover Institution and the Archives at Stanford University.
The reception was an intimate gathering allowing an open floor for intellectual discussion about the time period and subject matter of the exhibit.
Angela Pinasco, a sophmore at De Anza, heard about the reception from her teachers and said aspects of the poster styles shown in the presentation can be used on campus.
"I really liked the mud-stenciled (protest images)," she said, "I think we could do that in front of the library."
Lincoln Crushing ended the presentation with a hopeful future of poster media.
"Posters are still here and there's a reason," Lincoln said.
"When I'm in San Francisco, I see a lot of poster art," agreed Shirley Kinoshita, Vice President of Outreach, who attended the reception. Posters are still widely used for spreading information to an instant data society.