Ever since the Rotary Club of Cupertino unveiled the first 12 rabbits from its Cupertino Rabbits Project on June 25, 30 more have made their way into the public. All in all, 12 rabbits made their way onto the De Anza College campus, while the rest of the rabbits were only a short bus ride away. The rabbits are a product of local artists' dedication as well as a testament to the local community as a whole.
According to the Cuppertino Rabbits website, the Rotary Club of Cupertino started the project earlier this year to raise money for Kharkiv, Ukraine, as well as other local charity projects. Out of more than 95 applicants, the Rotary and their sponsors decided to choose 30 artists' designs to fund and bring to life.
"Sailor Moon" by Arcus Foo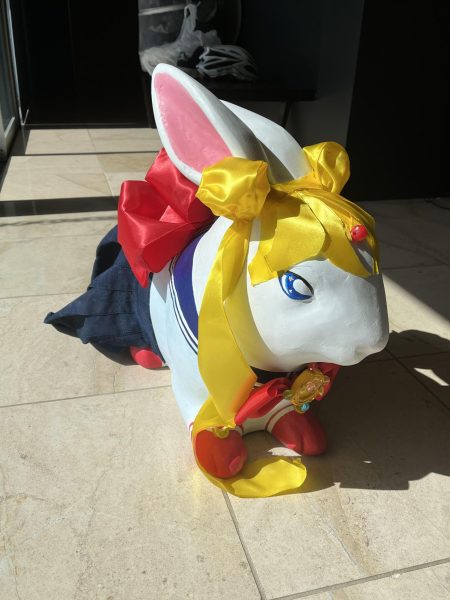 Arcus Foo, 15, a sophomore at Homestead High School who plans to dual enroll at De Anza in the winter quarter, is the artist behind "Sailor Moon," a rabbit whose name is inspired by a popular Japanese anime and manga series' main character, Usagi Tsukino, which loosely translates to "Rabbit of the Moon."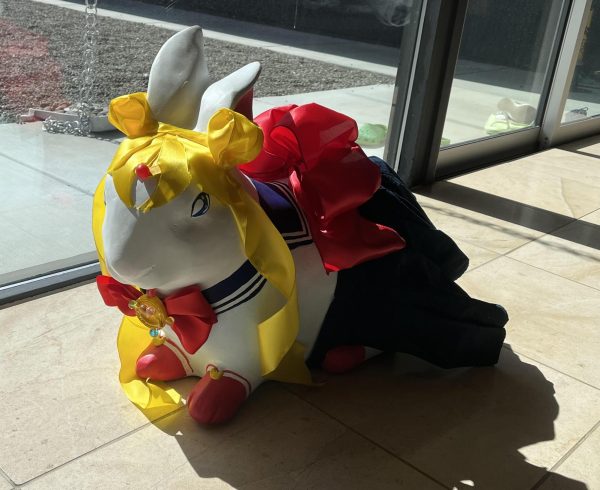 Foo said they originally submitted four ideas, including the Sailor Moon design, another one based on the Moon rabbit from the "Legend of Chang'e" from Chinese folklore, a third from "The Rabbit and the Dragon King" from Korean folklore, and a fourth design based on constellations in the night sky.
Story continues below advertisement
Foo said that they were shocked when they heard back from their sponsor, the Fremont Union High School Foundation, because they "didn't think the high school district would choose the anime character over the (other designs)."

"Sailor Moon" was Foo's first experience with making a statue, but in addition to painting their rabbit, they chose to accessorize it with ribbons and fabric. Foo went back and forth between having either only fabric or paint, until they eventually chose to do a bit of both.
"I noticed that a lot of the other rabbits had an object or a pattern painted onto them, like that rabbit was the artist's canvas. Whereas, I saw my rabbit as a dress-up doll," Foo said. "I wanted to dress it up instead of paint something on top of it."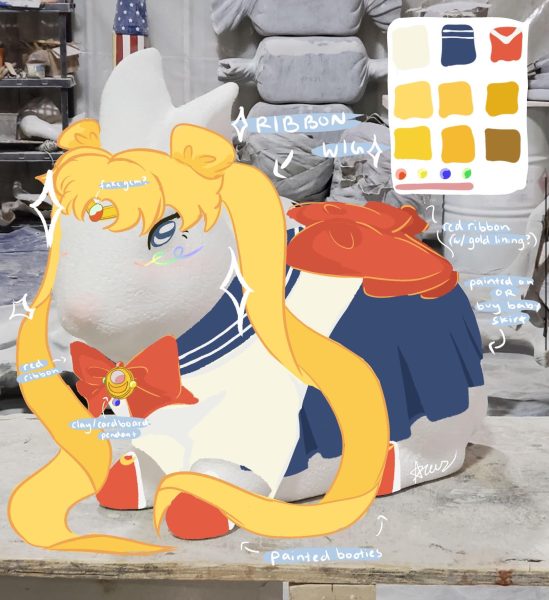 As Foo was working on their rabbit, they said their main challenges were how new everything was to them and claiming their stipend.
"Buying the materials was one of the hardest parts of my rabbit because I had to collect the receipts and scan them," Foo said. "They (the Rotary) decided how much money we would get based on how big our rabbit was. I got $100 and I spent $89 of it."
Foo also said that they got their rabbit late, which gave them less time than they expected to actually decorate it.
"The suppliers kept saying, 'Oh, the statue will come this week or next week,' but then they had more transportation issues and the weather was weird earlier this year," Foo said. "It was hard to plan my schedule around that."
Despite the issues they had to overcome, Foo said they received lots of help from other local artists in the community including other rabbit makers.
"I got help from my friend, Ashna Yadav, with what acrylic techniques to use and she also gave me some of her old brushes. Also, the creator of 'Hop A Long,' Carol Worthington-Levy, came to my house to help me figure things out, like how to superglue the fabric down onto my rabbit," Foo said. "That was really helpful."
Overall, Foo said they are proud of how their rabbit turned out, as they wanted to leave a lasting impression on everyone who sees it.
"When people see my rabbit, I want them to think, 'Whoa. How did they make that? That looks cool,'" Foo said. "Like, 'Sailor Moon' looks like it's from a cartoon. I wanted it to jump out. I think Rotary wanted to do the Cupertino Rabbits Project to bring more art into the community, and I think it's cool that people saw my art. Rabbits are cool."
"Sailor Moon" was on display at the Cupertino Library on the second floor, but the library took it down two weeks early — "Sailor Moon" will make its final appearance at the in-person auction before it finds a new home.
"The Rabbit of Universal Knowledge" by Miranda Woodthorpe
Miranda Woodthorpe, 19, is a business administration major at De Anza and the artist behind "The Rabbit of Universal Knowledge," found near the De Hart library. Her rabbit is decorated with the phrase "year of the rabbit" in several languages, all of which are commonly spoken within the De Anza community.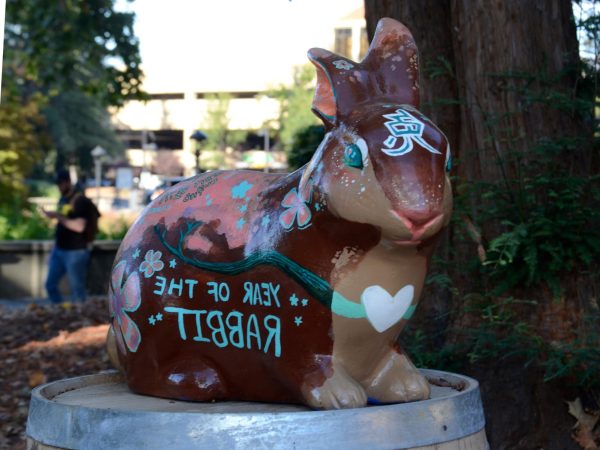 Woodthorpe said she has painted on three-dimensional surfaces before, but almost all of her experience has been two-dimensional.
Like Foo, Woodthorpe said she also experienced similar supply chain delays, leading her rabbit to arrive at an inconvenient time.
"Because the shipments were delayed, we were basically given a month to complete them," Woodthorpe said. "When the rabbit got here, spring finals happened, and then summer classes started right after. So while I was doing my rabbit, it was pretty chaotic."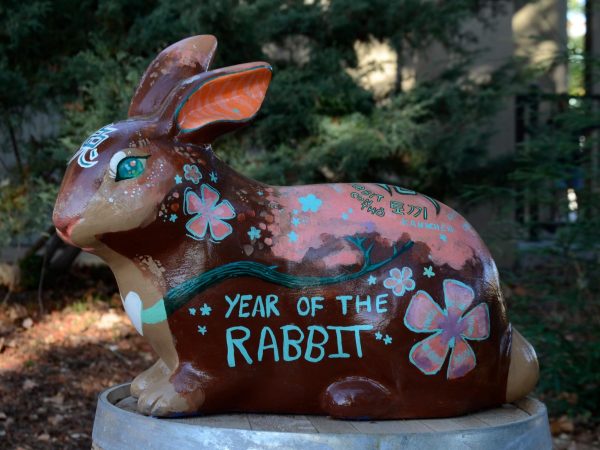 Despite this, she said she felt proud of her work and wished that De Anza did more to promote the rabbits' presence and the Cupertino Rabbits project as a whole.
"De Anza should have done a little more advertising because I feel like a lot of De Anza students don't know what the Rabbits project is," Woodthorpe said. "Students see the rabbits on campus and they think, 'That's cool.' I still think that with the visual aspect, the rabbits have made an impact on De Anza students. We're like, 'Ooh, cool! We have decorations now.'"
"Chang'E" by Emily Tumacder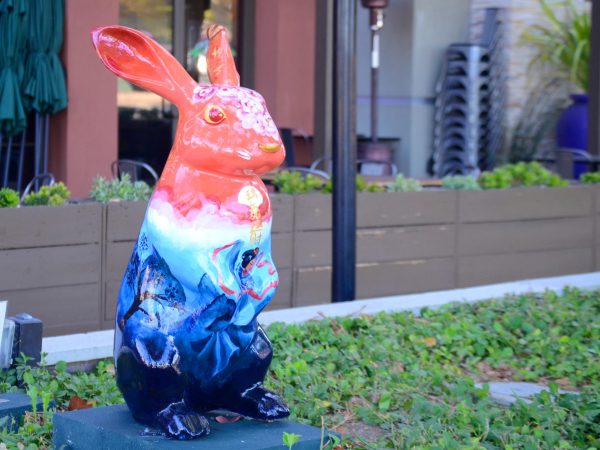 Emily Tumacder, 18, computer engineering major at Purdue University, was a senior at Homestead when she conceptualized and painted her rabbit, "Chang'E," that depicts the legend of Chang'e, the woman in the moon according to Chinese folklore.
Tumacder first found out about the Cupertino Rabbits project in her high school art classroom, and was immediately interested in participating despite this being her first time painting on a 3D medium.
"There was a poster about the Cupertino Rotary Club setting up these rabbits. I took one look and was (immediately) interested in painting a three foot tall rabbit," Tumacder said. "This was something different from what I'd ever done before. So I decided, 'You know, why not take a chance, submit my design and see if I can paint?'"
Tumacder found translating a design from two dimensions into three along with adjusting to a new type of paint are the most challenging aspects when painting her rabbit.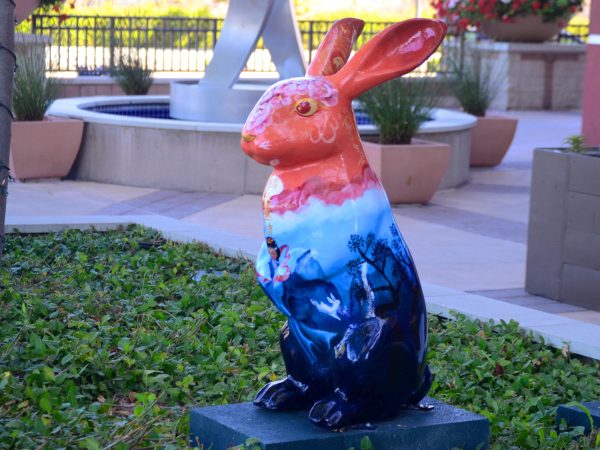 "Compared to craft acrylic (paints), heavy body paints have a deeper color and a different consistency," Tumacder said. "Also, when switching from 2D to 3D mediums, I didn't anticipate having to paint around the rabbit's curves; normally, when I'm painting, it's easier for me to figure out what I have in mind. I can make it exactly what I want on 2D (canvas), but with 3D, you have to alter things because the perspective at which you look at the rabbit is different from when you look at it straight on."
Tumacder felt her choice to base her rabbit around Chang'E, especially since the auction was set to happen a few weeks after the mid-autumn festival, reflects the voices and the people of her community.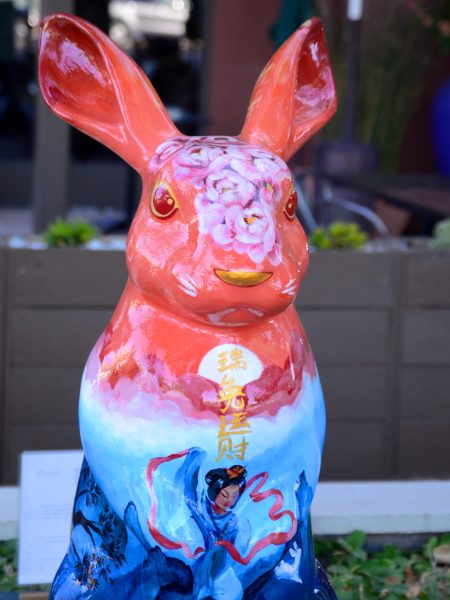 "From what I've seen, the Chinese community in Cupertino is really large," Tumacder said. "To have something that represents our culture in our community serves as a reminder of the people who live in Cupertino and the holidays we celebrate. I feel like that's important to have, especially as public art."
Tumacder said she is excited to see how the auction turns out and is grateful for the opportunity to work on the project with all the other artists. In the meantime, her rabbit and two others can be found at the Nineteen800 apartment complex, a short walk north of De Anza and Wolfe.
"Beauty in Complexity": Greeshma Regula
Greeshma Regula, 17, is a senior at Cupertino High School and the artist behind the rabbit "Beauty In Complexity," decorated in an elaborate Zentangle pattern and array of flowers.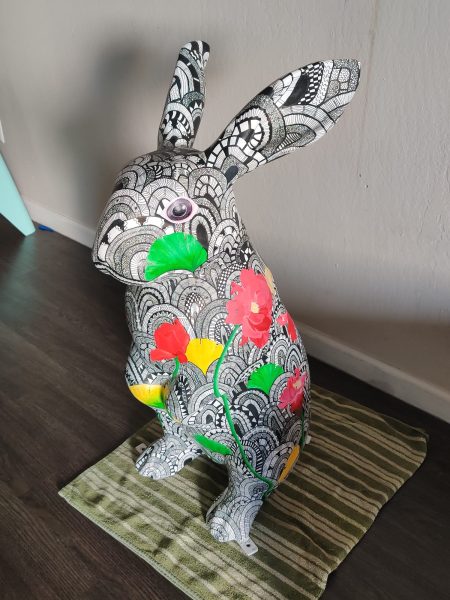 Zentangle is an art form where structured, intricate patterns come to form images greater than the patterns themselves.
Regula said she saw them as a method to meditate, describing it as "a way to relax and ease your mind." She was introduced to zentangle from a young age but only recently began using zentangles in her work.
"One of my art teachers introduced it (Zentangle) to me back when I was in Eisenhower Elementary school," Regula said. "Since then I've done it every once in a while whenever I got to doodle on paper and stuff like that, but it wasn't until I started taking art classes in high school that I began incorporating zentangle into my art."
One of the major frustrations Regula said she had while decorating was when she accidentally smudged paint while painting a different part of her rabbit because it's difficult to paint small zentangle designs on a 3D surface.
"I kept rubbing my hand against the places I just painted, and the paint would get on some of the other space that wasn't supposed to be painted," Regula said. "I'd be like, 'Oh no! I just got paint on top of a flower that I finished. I just spent hours on it.' Luckily, I was able to remove it with a little water and paint over it again so it wasn't that bad of a mistake."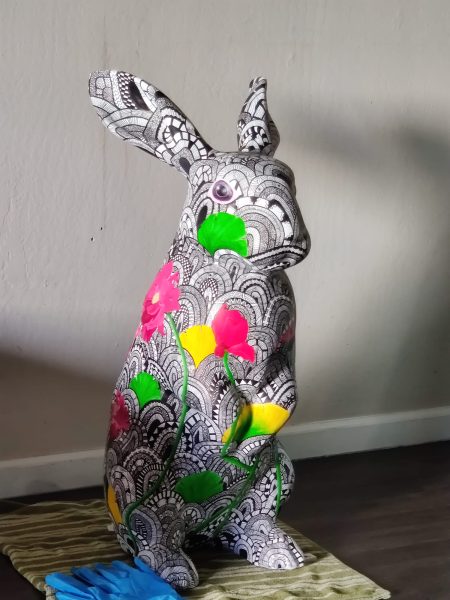 To Regula, Zentangle pushed her creativity to another level by letting her art detach from the strict rules of realism, and the Cupertino Rabbits project gave her a venue to express that creativity.
"Zentangle has very little reliance on how realistic it is, and relies more on what you can bring out from your head," Regula said. "It's something I think of and form in my head, and I can put it on paper. But when it's on paper, it's so much easier than in 3D to figure out proportions and which angle you want everything to be in. This is the first time I really pushed my artwork outside of my comfort zone."
Regula said viewers have to get up close to see all of the details of "Beauty In Complexity" to fully experience the rabbit and the intricacies of the artwork.
"When you're standing further away, you're less likely to notice a lot of the details," Regula said. "Because most of that rabbit is a very complex detailed work, you don't notice everything until you step pretty close."
Regula said she hopes to get another opportunity like this and is excited for the auction; though the idea of her work being on display was nerve-wracking to her, she's excited to see what everyone thinks.
"Beauty In Complexity" can be found at the Deep Cliff Golf Course, right outside the parking lot.
The rabbits are up for silent auction now from Oct. 9 to Oct. 16, with an in-person finale at the Quinlan Community Center where they will be sold for private use.