Lines of people came to De Anza for a festive morning at the monthly flea market. Vendors busily set up their booths with the brightest smiles, ready to welcome the flocking customers.
These vendors come and go; some are newcomers, some have been here for years, but they all have stories to tell that will bring a smile to customers who come and check out their products.
De Anza College's monthly flea market, organized by DASG, housed 813 vendors in the A and B student parking lots from 8 a.m. to 2 p.m. every first Saturday of the month.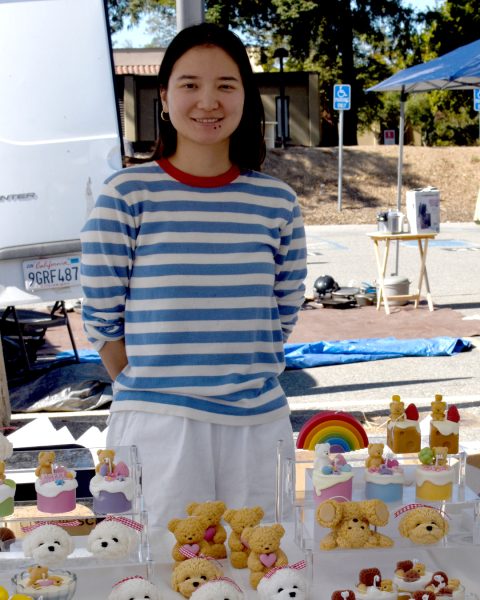 Coco Zhang is a first-time vendor, selling colorful and eye-catching candles for her business, Star River Candle.
Story continues below advertisement
Having over a year of experience in shaping and molding molten wax, Zhang sold an array of different candles that took the shape of ordinary objects like lemons, cakes, rainbows and puppies, but added a touch of cuteness to each such as smiley faces into the sunny side up egg candles and tiny paws onto her teddy bear candles.
Zhang said that a friend referred her to the market.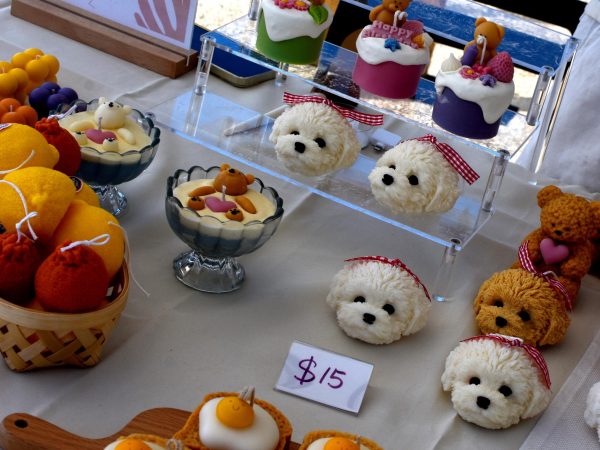 "This is my first time (here)," Zhang said. "But sometimes I go to some (other) craft markets."
Besides small businesses, the flea market community also caters to individuals selling their personal items, all having different sentiments behind them.
Joe Howard, former music teacher and choir director at Fremont High School, came to the De Anza flea market to sell his collection of instruments.
As a musician for 55 years, Howard has accumulated an assortment of brass, string and woodwind instruments. His curious collection of instruments came from garage sales and other flea markets.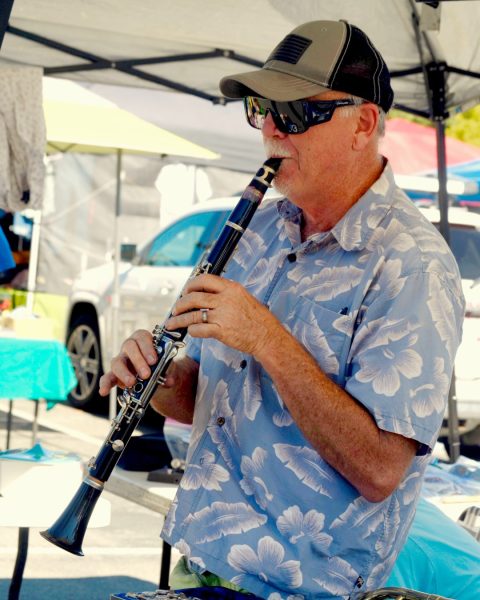 After teaching for 31 years, Howard believed it was his time to retire at the end of last school year. Howard said he wants to spend more time with his four grandchildren and go see places around the country.
Stationed in his booth while making music, Howard was able to sell four saxophones, all six of his spare violins, four banjos, and a flute. Howard said he didn't sell any of his personal instruments, only duplicates that he collected over the years.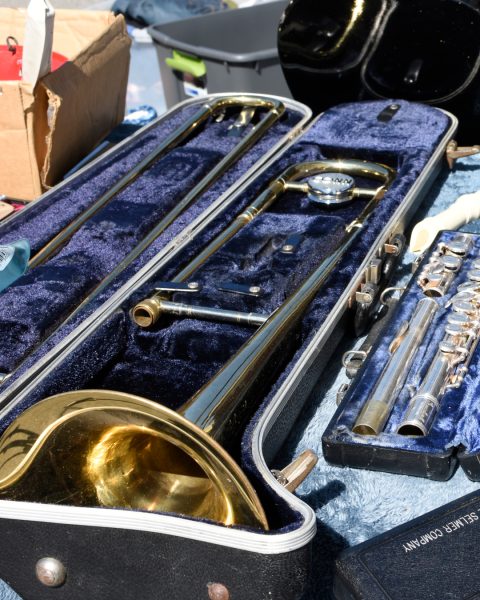 "Of course, I'm still going to be a musician. That's not going to change, ever," Howard said. "I'm just trying to clear my garage. I'm asking for a quarter of what these instruments are worth because I don't need them anymore and I can't bring them with me, these are just my spares."
The flea market event also welcomes back long-time vendors and familiar faces.
Kimberly Zuniga has been a vendor at the De Anza flea market for the last 5 years. Her aunt is also a long-time vendor and the two share a booth.
Zuniga, known as the "Stretchy Bracelet Lady," has garnered an audience of regular customers who come to her booth and buy fun-themed stretchy bracelets.
"The flea market is the only outlet I have right now," Zuniga said. "I like instant gratification."
What started as a hobby became a thriving business for Zuniga. Zuniga said through her presence in various flea markets, resellers were eager to bulk-buy her bracelets to resell in their respective shops.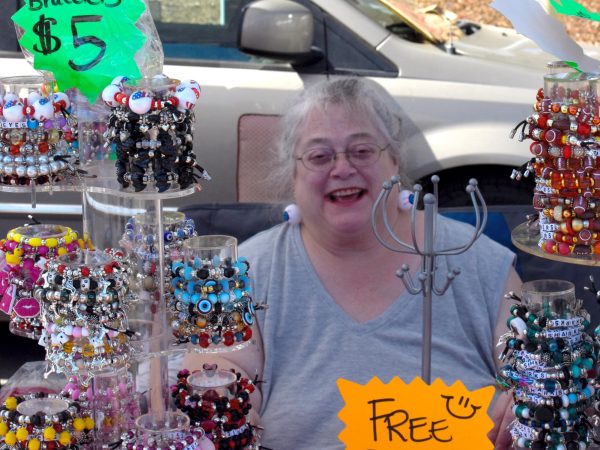 Zuniga's stretchy bracelets range in theme from LGBTQ pride, LEGO themed to Bay Area sports team themed bracelets, featuring teams like the San Francisco 49ers, San Jose Sharks and San Francisco Giants.
Zuniga found her passion in stretchy bracelets as part of a search to have jewelry that was truly accessible to all.
"I wanted to make something more equitable that everyone could wear without costing them a fortune," Zuniga said. "I found that stretchy bracelets fill that role."