De Anza head baseball coach on leave after forfeit, field issues
March 16, 2018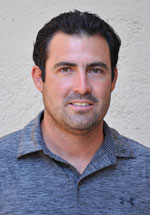 Head baseball coach Erick Raich, widely credited with turning around De Anza College's baseball program since his arrival in 2015, was put on indefinite paid administrative leave on Monday, Feb. 26, amidst the team's second season without a home field.
Scott Hertler, Raich's predecessor and a tenured kinesiology instructor at De Anza, stepped up to the plate in his absence.
While the details are confidential, Raich's leave comes in the wake of a game against Folsom College on Saturday, Feb. 24 that was halted and abruptly forfeited in the first inning by Athletic Director Kulwant Singh. 
The forfeited game was to be De Anza's first home baseball game since 2016, as well as the long-awaited debut of the $1.2 million baseball field, which was initially scheduled for completion in October 2017.
Singh stated in an email on March 13 that he lacked sufficient information to comment on the situation.
"I am not in the loop…I really cannot answer your questions because I don't know," Singh wrote.
The baseball team was informed of Raich's leave on the Monday following the forfeited game.
In an email to parents of the baseball players on Tuesday, Feb. 27, De Anza President Brian Murphy provided the following statement explaining the reason for forfeit: "I had presumed the game would be canceled, and was therefore surprised to find that it had begun to be played. I made the call to stop play, as we could not vouch for the safety of the field."
The coaches first saw the field the day before the game. They believed the pitchers' mound had been constructed from improper clay, therefore making it unsafe for play. Players and coaches made modifications to prepare the pitcher's mound for play, including the removal of the improper clay and installment of correct materials. (See related story)
In the email, Murphy went on to apologize, saying "the opposing team and fans should have been clearly informed of the reason the game was forfeited, and I am sorry that no one stepped up to do so. The head coach is on leave."
John Buchman, the baseball team's head pitching coach, said that he believes administration is "pushing the blame on someone [Raich] who has nothing to do with the situation."
A De Anza employee who asked not to be named said Raich may have grounds to file a grievance against his employers, citing workplace safety mandates established by the Occupational Safety and Health Administration.
Meanwhile, Raich's return and the status of the baseball field are unclear.
To many, Raich represented the baseball program's redemption.
Before his arrival in spring 2015, De Anza's baseball team was the lowest-ranked in the entire state of California, with a win-loss record of 3-31 for the 2014 season — the worst in De Anza history. Before hiring Raich, Singh and dean of physical education Coleen Lee-Wheat were even considering terminating De Anza's baseball program.
In 2015 and 2016, under Raich's leadership, the Dons made it to playoffs. In the seasons since, their win-loss ratio has improved consistently, achieving a record of 22-17 in 2017.
Players, parents and coaching staff have expressed concern for recruitment prospects in Raich's absence. In his three years at De Anza, Raich has seen nine players recruited to Division I college baseball programs, 13 to Division II and one player to Division III.
Buchman said Raich is beloved by players, and that his leave may affect recruitment prospects of current student athletes. 
"He's probably one of the most connected guys in the state of California," Buchman said. "It's difficult to move guys on; it's difficult to recruit guys because right now we're in limbo. He's the guy where guys go 'I wanna play for Erick Raich' and we don't have that right now. It's kind of a disaster, to be honest."
Raich has coached many players who made it to Major League Baseball, including Joc Pederson, current center fielder for the Los Angeles Dodgers.
When asked about his outlook on the season, Buchman said "We're really just looking for resolution. We're trying to right the ship right now."
In his Feb. 27 email, Murphy explained the coaching situation moving forward, saying "I want to assure you of the continuity of the baseball program, as the previous coach, Scott Hertler, has agreed to lead the team for the time being. We believe he will provide the best possible support for your students in their athletic and academic goals."
Associate Vice President of Communications and External Relations Marisa Spatafore wrote in an email that Hertler "has extensive baseball coaching experience and is well-known in the baseball community. We very much appreciate his willingness to provide leadership to the student-athletes."
Hertler was head coach of the baseball team from 1999 until his resignation in 2015.
He has continued to teach classes in De Anza's kinesiology department and holds a position on the Academic Senate.
Hertler said it feels good to be coaching again. "It's nice to be back in the dugout, hard to get back into the logistical side…but being back around the kids and coaches is a good thing, I'm enjoying it," he said.
The team's record is 10 – 11, following a 6-5 loss to West Valley College on March 15. It was the third loss in a row for the Dons.
Despite recent losses, Hertler has an optimistic outlook. "I believe we can still get back in this thing. We've got good talent. The guys play hard," Hertler said.
"We have to make a few improvements, but I think we can make a run at this thing," He said. "We're on a three-game skid and we need to get on a run. If we do that we can turn this thing around."
Pitching coach Buchman emphasized the uncertainty surrounding the coach and the field, saying "we have a team that doesn't really know their future. We have a coaching staff that doesn't really know their future … these are players' careers."
"But we have a lot to play for," he said. "We're a good team. There's a lot of distractions, and I think that's going to be the determining factor…whether we can put those aside. We just want a chance."
La Voz will continue to cover the status of the baseball field and the coaching situation.