The punch baseball needs to wake up

4

min read
June 12, 2016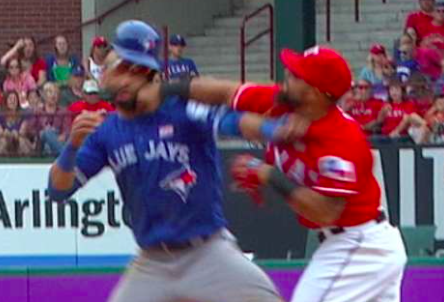 Nationals outfielder Bryce Harper caused a media kerfuffle when he debuted a hat that read "Make Baseball Fun Again." Rougned Odor and Yordano Ventura have delivered.
Ventura was handed a nine-game suspension Wednesday June 9 for his 99-mph fastball to the back of Baltimore Orioles' third baseman Manny Machado and Odor finished serving his seven-game suspension last week for his right cross to Jose Bautista's beard.

Contrary to Harper's belief baseball is fine. Major League Baseball has endured two World Wars, 28 presidents and 147 years so the notion it has gotten boring and is on the way out is ridiculous.

That being said the game always needs to be tweaked and the proposed rule changes to alter the strikezone and do away with intentional walks are a step in the right direction.

The new rules, which could be in effect as early as next season, consist of changing the bottom of the strike zone to be the top of the hitter's knee instead of the bottom of the knee. This change was a response to umpires increasingly calling the low strike on hitters and will presumably make things easier on the hitters.

Since taking over for Bud Selig in 2015, MLB Commissioner Rob Manfred has made efforts to increase the pace of play including adding a clock to regulate the time taken warming up between innings and preventing hitters from stepping out of the batter's box after every pitch.

These changes shaved an average of six minutes off game times in 2015, according to the Associated Press. These six minutes are a decent result, given it's the first year the rule changes took effect, but I'm not sure what Manfred's end goal is here.

The average game time was still around three hours, which is far too long if the goal is to attract football and basketball fans to watch baseball. Football fans and basketball fans are looking for fast-paced entertainment. They want fastbreak dunks, kickoff returns and big hits.

While I'm always a fan of watching a bench-clearing brawl these are few and far between.

Baseball doesn't have much of that besides the occasional Roughned Odor haymaker. The entertainment baseball does provide is nuanced and harder to recognize unless you have played the sport or watch it with regularity.

Here are some ideas that could spice up baseball and attract some casual fans to stick around and learn to love the game.
We need more bat flips
Jose Bautista's bat flip in last year's playoffs against the Rangers was iconic. So iconic his chin paid for it about 8 months later when Oder punched him after an intential slide at his legs. Home runs are so rare in games nowadays they need to have some extra flair. The best home run hitter for 2015, Orioles first baseman Chris Davis, hit 47 home runs in 670 plate appearances. That means the best home run hitter in the majors hit a home run just 7 percent of the time. Not all of those are worthy of bat flips though. Here's the bat flip criteria:
A no-doubters: 425 ft or more. When everyone in the ballpark knows someone in the bleachers is going home with a souvenir after a swing. Bat flip all you want.
A go ahead home run in the seventh inning or later. Most of the time this seals the win so seal it with style.
A grand slam. The record for most career grand slams is held by Alex Rodriguez at 25. Are you telling me you don't want to see 25 more career bat flips from A-rod?
Umpires need to ease up

It's only fair to let pitchers get upset at the bat flips, so the umpires need to let that be settled on the field. Let two hitters get hit intentionally before you warn the bench. As long as players don't get hit on the shoulder and above, throwing at batters is a good way to send a message whether it's "back off the plate" or "I didn't appreciate that bat flip." If a pitcher hits a player in the head, intentionally or not, it's an automatic five game suspension to keep pitchers from aiming high.
Let more smack talk happen between pitchers and batters before you get in the middle. If you strike out the side, feel free to jaw a little bit at the batter that just whiffed. Everyone loves a good rivalry and what better way is there to start one than with a ton of little personal rivalries?
More personality from players

Mike Trout is the face of baseball and rightfully so given his stats, but to be honest: He's a little boring. He's going to hit .290 with 30-35 home runs until he's 40 and not say a word in the process. Any sport benefits from players who have the most flair regardless of performance. Take Yasiel Puig for example, whether he's hitting .200 or .300, he's a one-man show.
If you're a closer and you don't have a signature move after you complete the save, you're wasting valuable time in the bullpen.