Sports, languages sent to viability

2

min read
Six athletic programs along with four languages were sent to viability during recent IPBT meeting
May 25, 2018
On May 15, De Anza College's Instructional Planning and Budget Team selected four world language programs and teams from six athletic programs for an upcoming viability review.
The athletic teams to be reviewed are baseball, badminton, football and men's and women's tennis, water polo and basketball. The language programs selected are German, Italian, French and Spanish.
Assistant Vice President of Instruction Lorrie Ranck met with faculty in the athletic department on May 14 to give background information about IPBT and to get direct feedback.
Athletics voiced  concerns on how how kinesiology enrollment could be affected because of potential cuts or elimination and the effectiveness of combining an athletic team with Foothill College.
"We don't see students travelling to Foothill, there's a few, but it's not like: 'we're going to go there for a team and they're going to come here for a team,'" Ranck said. "We don't cross-pollinate in that same way."
De Anza's Wellness Center was also brought up as a potential program that could looked at by the IPBT regarding viability review.
Program eliminations are not guaranteed for any of the teams or programs sent to the upcoming review, said James Nguyen, IPBT co-chair and political science chair.
"We're just saying they're there for a deeper dive, an opportunity for conversation beyond the numbers and see how it shakes out," Nguyen said.
Title IX athlete proportionality will be taken into account by the Viability Advisory Team, and reviews for women's teams sent to viability will depend on decisions with men's teams.
The part-time faculty in the world languages department was brought up in discussions as one of the concerns, as the final part-time budget is confirmed to be reduced in the coming academic year.
The final part-time faculty budget for the four quarters of the upcoming academic year is $18.1 million, a $3 million dollar reduction from the estimated expenditure of the 2017-2018 academic year of around $21.3 million.
Discussions to propose and vote on world language courses at next week's meeting were made, however, a motion to send German, French, Italian and Spanish for viability review was introduced and passed in the last five minutes of the meeting. The courses' fill rates were a factor in their selection.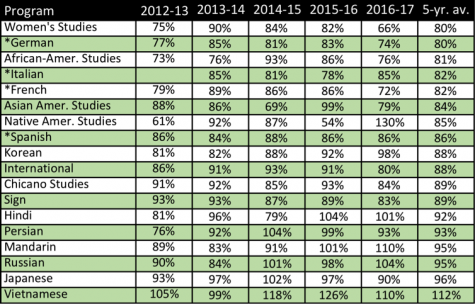 The Viability Advisory Team has been selected and will convene for a series of meetings on May 23, said IPBT Co-Chair James Nguyen. The viability meetings are closed-door but plan to take student voices into account when looking at programs and making recommendations.
"Generally, we will want to know what impact our decisions will have on students, that is very important to us," Nguyen said.