Dons football team optimistic for a winning season
October 2, 2017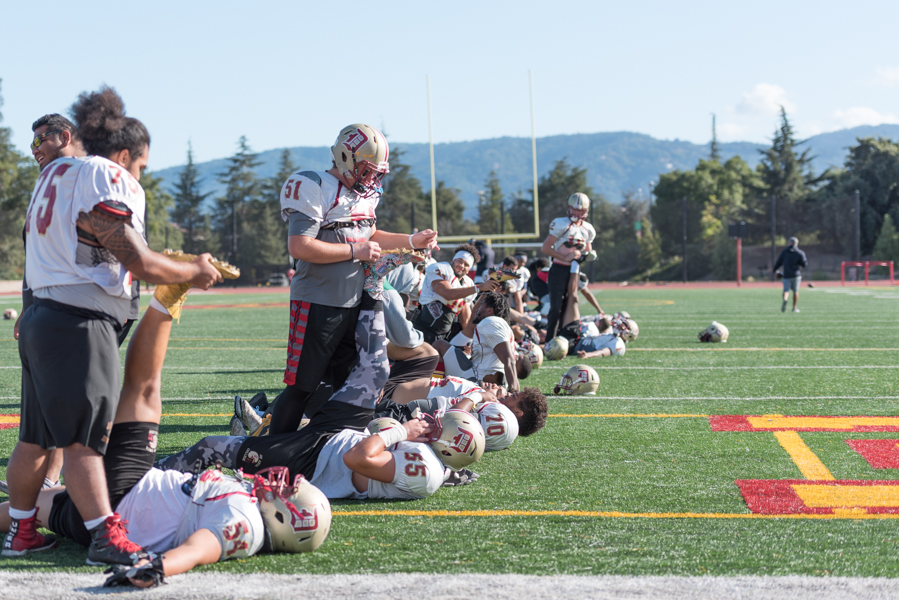 Matthew Fernandez
The De Anza College Dons Football team has been putting in hard work as games started early this fall season. Head coach Anthony Santos said leadership is the team's main focus and players have been working on it as he said they would.
"This year we had select representatives from their groups: They meet once a week to see how the team culture is, see their needs are met, and if there are things that could be improved. Having a structure so that the players have a voice, to us that was very important," said Santos.
Assistant head coach Burt Codera agreed that leadership is a huge deal, and said coaches try to implement that on these young men; it's a lifestyle.
"We are teaching them minor details and to focus on them, so when it adds up it'll create something bigger. Winning isn't the main priority and it's something we try to put it aside and focus on our tasks so that when we do all those things, winning is just a product of what we do on the daily," said Codera.
The team is feeling excited about this season. "I feel optimistic. We have a very talented group of young men. We have students with different life situations. Different areas of the country, mindsets and we are just trying to push them all together and blend them," said Cordero.
The team works hard, and meets every single practice with enthusiasm. There is a downside, but they don't let it affect their game performance.
"I feel excited; the downside, it's De Anza has a part-time head coach, and all the other teams we play have three to six full-time coaches. That's why we train in the evenings, most of us are teachers and this is our second job," said Santos.
This makes the Dons work even harder. Santos said the team's diversity, and its hardworking students who have had to overcome the odds is something they celebrate.
"Football is a way of hope for them; their future doesn't have to be negative. They're part of a team that has a coaching staff who celebrates, supports and empowers each other," said Santos.
The Dons' current record was 1-2 going into their a Sept. 22 match against Laney College.
Their next home game will be on Sept. 30 at 1 p.m. vs. Chabot College.